1

Ice Cream Tacos
California ice cream shop Sweet Cup has created a sugary take on a much-loved savory food with their new taco ice cream. Now, before you get grossed out, the ice cream doesn't taste like tacos, so there's no need to worry about hints of minced beef in your creamy dessert.
The tacos feature regular ice cream tucked inside a rounded waffle cone shell. But there is something different about the ice cream Sweet Cup serves—it's rolled into the waffle taco. The ice cream is then embellished with the likes of edible gold, sprinkles, chocolate syrup, and fizzy sweets to mimic the salad and sauces that usually fill a taco.
2

Kakig?ri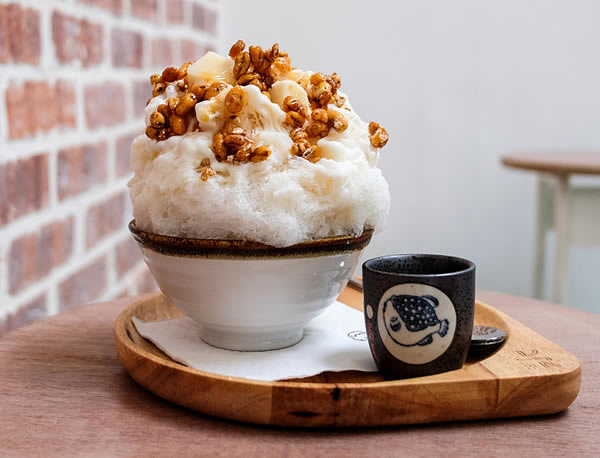 Kakig?ri is a popular Japanese dessert made from shaved ice flavored with syrup. It was served for the first time in Kanagawa Prefecture in 1869!
Flavors include strawberry, cherry, lemon, green tea, grape, melon, "blue-Hawaii" sweet plum, and colorless syrup. To sweeten Kakig?ri, condensed milk is often poured on top of it.
Kakig?ri is nearly identical to a snow cone but can have a slightly rougher consistency, and a spoon is almost always used. The traditional way of making it involves using a hand cranked machine to spin a block of ice over an ice shaving blade. However, electric ice shavers are now used, though street vendors can still be seen hand-shaving ice blocks in the summer.
3

Gelato Flowers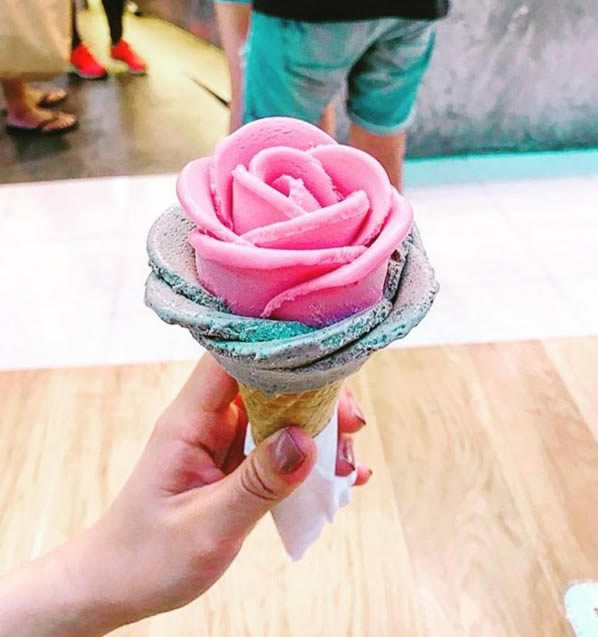 i-Creamy Artisan Gelato offers some of the most delicious ice cream in Sydney, but it's not their award-winning creations or the predominantly Asian flavors that set them apart from the competition. It's the way they serve their ice cream that has everyone talking about i-Creamy and their beautiful gelato flowers.
Who wants gelato scoops pressed onto a crunchy cone when you can feast on a delicious ice cream flower instead? Judging by the crowd lining up even on cold winter nights, and the popularity of i-Creamy's Instagram page, nobody! Sure, turning ice cream into a work of art takes a bit more time than serving a regular gelato, but it makes people happy, and they always come back for more.
4

Macaroon Ice Cream Sandwiches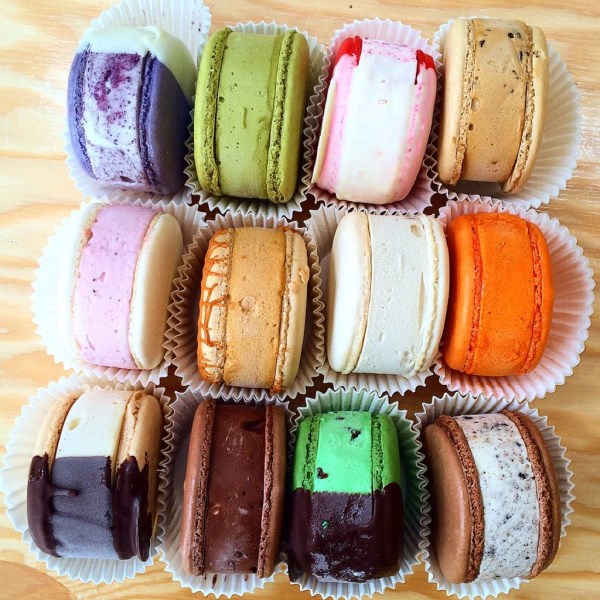 Combine the classic macaroon with ice cream, and you get the macaron ice cream sandwich. What makes it so special? The presence of creamy dairy balances out the flavors and textures, according to food journalist Jessica Yadegaran. You can find macaroon ice cream sandwiches for about $5 at select bakeries, coffee shops and—surprisingly!—poke spots around the Bay Area.
5

Goth Ice Cream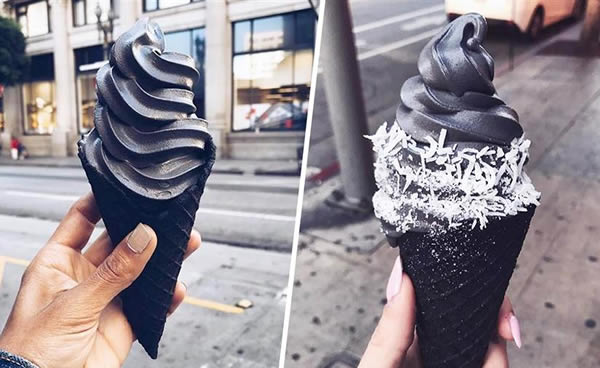 If you're sick of unicorn-inspired foods or glitter-covered cocktails, there's finally a food trend for the darkest part of your soul: gray ice cream.
The latest social-media sensation, dubbed "goth ice cream" by the internet, is the handiwork of Los Angeles soft-serve shop Little Damage. The family-owned store opened in February, quickly attracting foodies with its unique flavors, including mango sticky rice, chocolate-dipped cherry, and unicorn tears, a baby-blue vanilla creation.
The "goth" ice cream's official flavor is actually almond charcoal, and the dark hue comes from activated charcoal. Customers can have their sweet treat served in a freshly made charcoal waffle cone and topped with sweets like shaved coconut or Oreos—or, if you're feeling colorful, Fruity Pebbles or rainbow sprinkles.
6

Ice Cream Burrito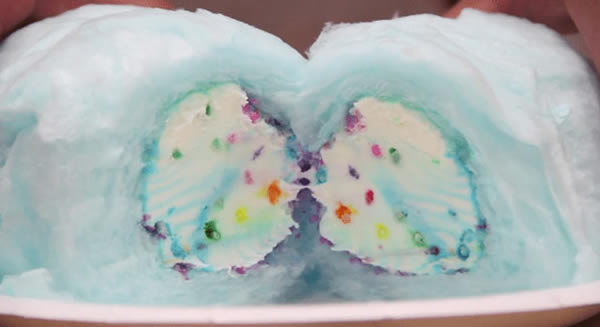 This is the Ice Cream Burrito available from dessert shop Sugar Sugar in Sarnia, Ontario. It consists of three scoops of ice cream covered in rainbow sparkle sprinkles (aka unicorn dust), then wrapped in a cotton candy "tortilla." Obviously, it's the perfect post-breakup meal.
7

Galaxy Ice Cream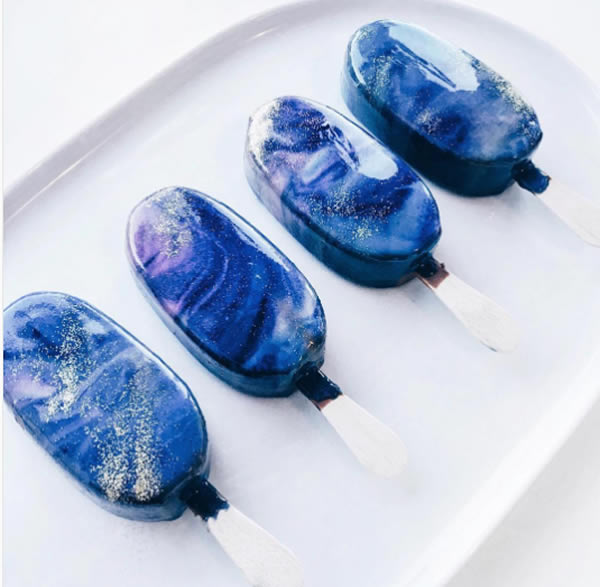 Galaxy ice cream is here, and its ready to take the title as the most glorious ice cream we've ever seen. Instagram user Li-Chi Pan debuted his homemade confection in 2016, to show off the intricate space-themed designs that he'd managed to create on the frozen dessert. He didn't however, share details as to how he'd created the masterpiece.
8

Spaghetti Ice Cream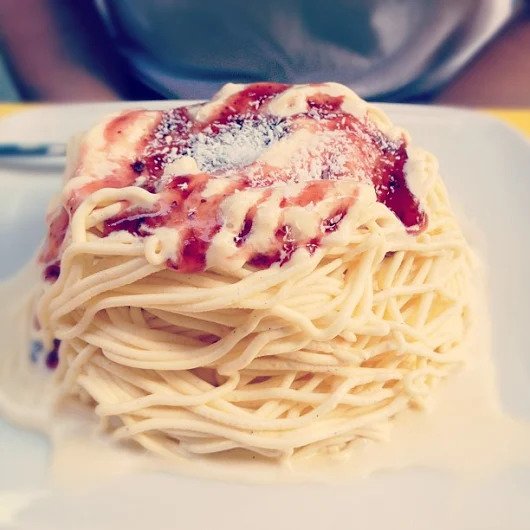 This may look like a pile of pasta, but it's actually spaghetti ice cream! From Germany, this confection is a whimsical treat made from a noodle press that would look right at home in Willy Wonka's factory. Of course, you're not limited to red sauce. There are other varieties to be found such as carbonara and vanilla ice cream noodles served with brownish liquor sauce and nuts. I might have to try this myself, perhaps with Japanese Soba vanilla and a nice Nutella "soy sauce" on top.
9

Glow-In-The-Dark Ice Cream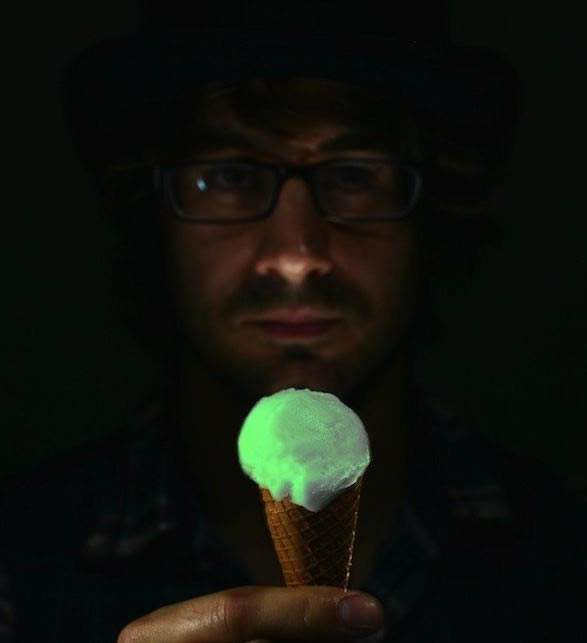 Charlie Francis of the Lick Me, I'm Delicious ice cream company created this special ice cream for Halloween. It's glow-in-the-dark jellyfish ice cream using calcium activated proteins that react when they are agitated or to put it a nonsciencey way; it glows when you lick it. They are definitely not cheap—at $200 a scoop I'll be skipping the experience.
10

"Premium" Unmeltable Ice Cream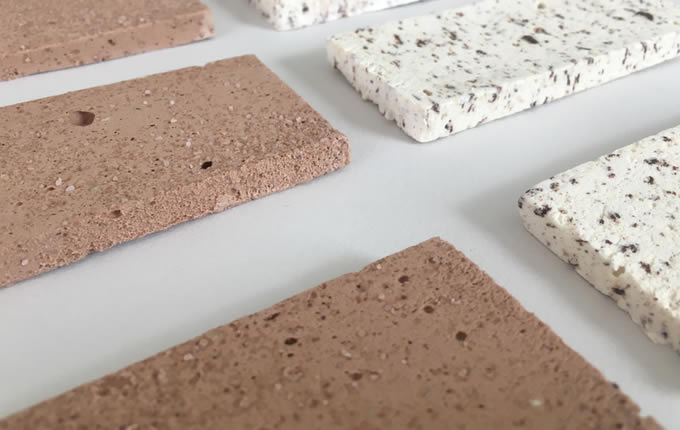 Wouldn't it be nice if you could enjoy a nice refreshing ice cream on a summer day without having to keep it from dripping all over your hands? Well, thanks to Gastronaut Ice Cream, now you can!
34-year-old Rob Collington, the founder of Gastronaut Ice Cream, had always been a big fan of Astronaut Ice Cream, a freeze-dried ice cream sold at space museums and camping stores across the US. He has enjoyed eating it since he was a little boy, even though he admits it doesn't taste great because it's made with the cheapest ice cream available and contains artificial ingredients. But it does have a significant advantage over even the most delicious traditional ice cream—t doesn't melt, no matter how hot the sun burns. He quit his job as an office worker and spent three and a half years working on his own version of a natural, organic freeze-dried ice-cream, traveling over 20,000 miles across the United States, Mexico, and Canada to try different kinds of Astronaut Ice Cream.
The freeze-drying process involves first freezing a food substance, then creating a powerful vacuum and adding heat which draws out the liquid as vapor. Unlike regular ice cream, Gastronaut is room temperature and crumbles in your hand, but once you take a bite, it absorbs the moisture in your mouth and turns into "the same sweet and creamy ice cream you've known all your life, but with no brain freeze."