1

Kangbin Lee (Korea)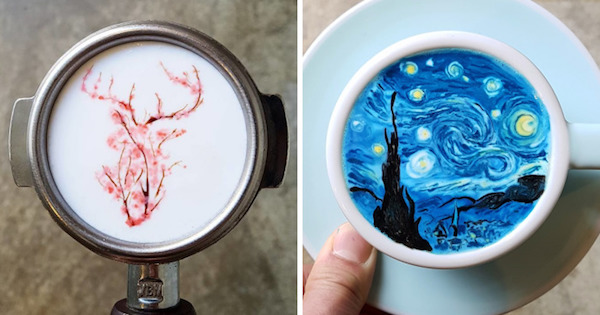 Korean coffee artist Kangbin Lee makes insanely detailed latte art, using a technique he calls "cremart," from classic films like E.T. and Disney animations to fine art masterpieces like Vincent Van Gogh's Starry Night. His labor-intensive works of art are so stunning, many forget that they sit atop lattes.
In addition to his colorful, hyper-detailed lattes, he also makes traditional coffee art, but one thing's for sure—all of his creations are almost too beautiful to drink.
Lee, who's been a barista for ten years and owns the C. Through Coffee Shop in Seoul, says that coffee is "a medium of communication that connects people." He hopes those who see his work realize that "a cup of coffee can be memorable and a work of art."

2

Mattsun (Japan)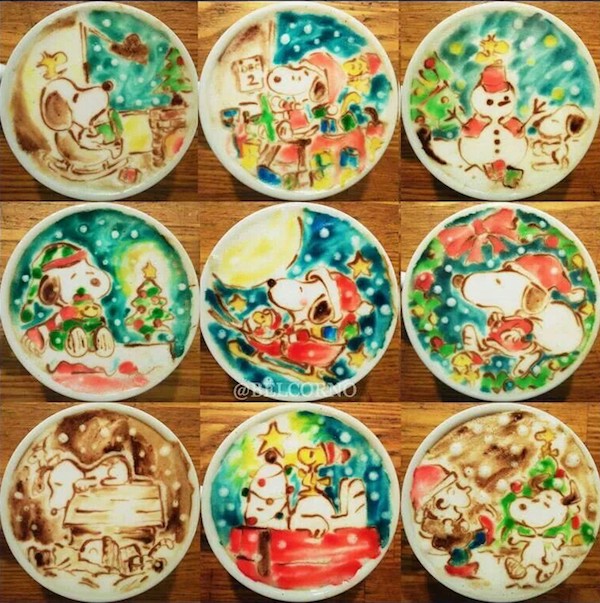 Japanese latte artist Mattsun makes legit works of art using a metal stirrer and a bit of latte foam. He first tried his hand at coffee art back in 2009 while working at an Italian restaurant, and by 2011 was accomplished enough to hold a solo exhibition, entitled Blue Sky Latte Art, in D?tonbori, Osaka, Japan.
Since then, he's created thousands of pieces of coffee art. One day, he hopes to own a mobile cafe so he can spread his latte art throughout the land.

3

Nowtoo Sugi (Japan)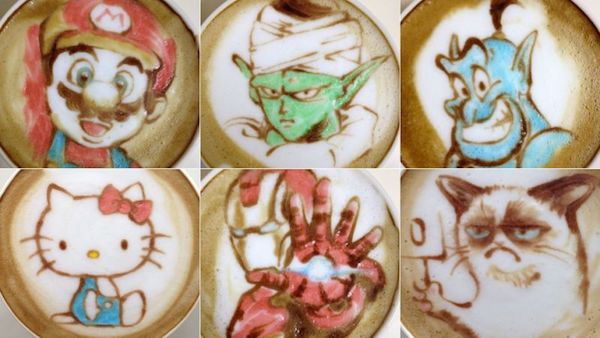 You are looking at the work of Nowtoo Sugi. She began using colored bartender syrups to "paint" on coffee, and while she isn't the only one to create colorful lattes, she is certainly one of the best.
Unlike the other baristas on our list, for Sugi, this is just a hobby. Since she does this at home, only her friends and family get to sample this amazing looking coffee. However, you can check out her technique below:

4

Kazuki Yamamoto (Japan)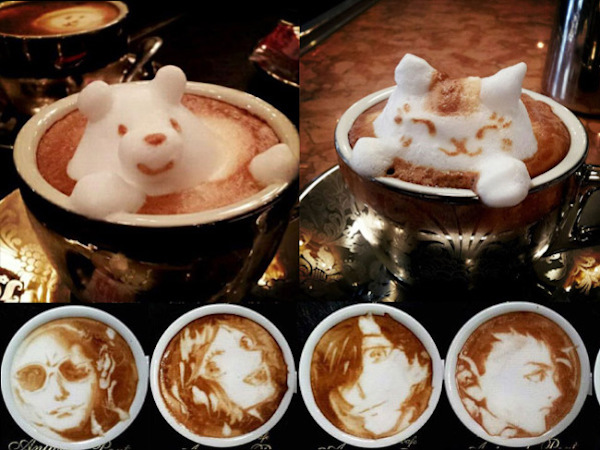 Kazuki Yamamoto's work encompasses a broad range of designs, from animals to popular anime characters. The creations he concocts are so adorable that customers hesitate to drink them. Using a simple toothpick, he creates stunning latte art for Cafe10g customers in Osaka. He also posts his works on Twitter (@george_10g) where he has amassed almost 200,000 followers, all fascinated by his latest creations.

5

Mason Salisbury (U.S.)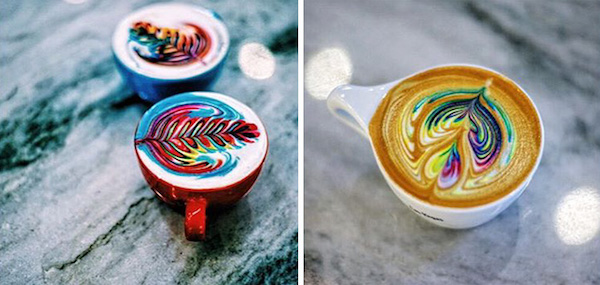 Ever wanted to try your hand at making colorful coffees like these, but don't want to waste all that pricey espresso? Barista Mason Salisbury has come up with a clever solution—instead of using espresso, he uses food dye.
Salisbury makes his colorful creations by steaming milk which he then infuses with food dye before pouring the foam into a cup. He finishes them off with an artistic flourish to create these beautiful multi-colored leaf patterns.
6

Melannie Aquino (U.S)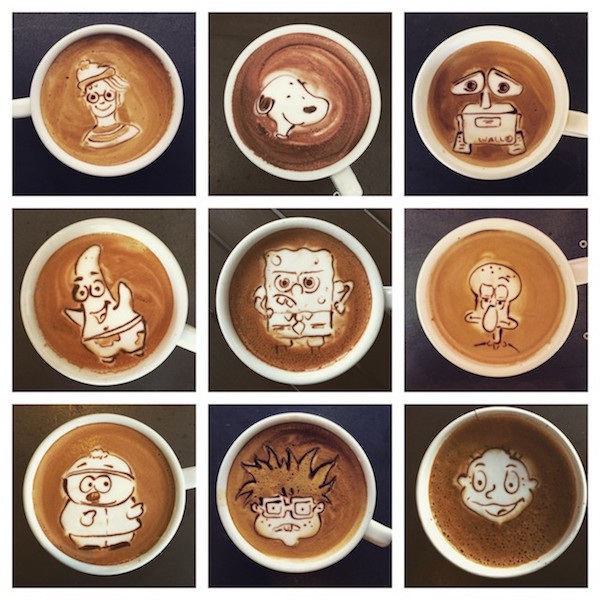 Melannie Aquino at Elite Audio Coffee Bar in San Francisco's SoMa neighborhood uses a metal skewer and a pot of chocolate to draw remarkably detailed sketches of everything from sweet-faced pugs to London's Big Ben atop frothy foam.
She first started experimenting with coffee art four years ago when she took the job at the cafe. Recently, Mashable has named her the best coffee artist in the world.
Most coffee art is made by "free pouring" steamed milk into a shot of espresso and adjusting the pour to create certain patterns and designs. Aquino's drawing method is unique, and she knows of only a few artists who attempt it.
Elite charges $5 extra for her sketches, which take about three to five minutes to make, and she now only creates using chocolate coffee drinks because the design lasts much longer.

7

Emily Coumbis (Australia)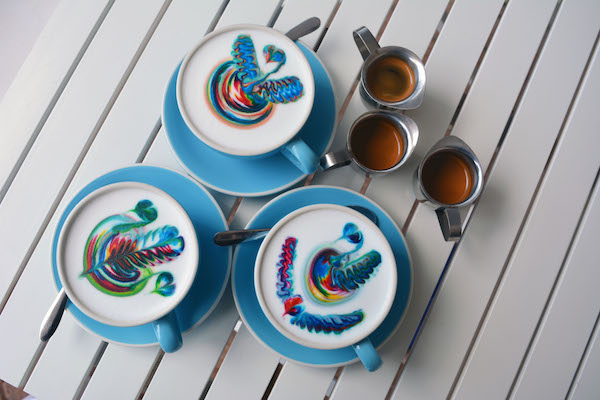 25-year-old barista Emily Coumbis works at Piggy Back Cafe in the Brisbane suburb of Jindalee and is behind the cafe's visually stunning rainbow lattes, which have gone viral online.
Coumbis first studied the technique online—which involves dropping regular blue, pink, and yellow food dye into milk—and decided to try it out herself. She passed the test with flying colors (get it?) and now makes up to 300 cups a week with patrons coming from as far away as Singapore to enjoy her creations.
The Piggy Back Cafe is now sharing its success with those in need—it donates $1 from each coffee sold to not-for-profit organization The Mind Shift Foundation.

8

Michael Breach (U.S.)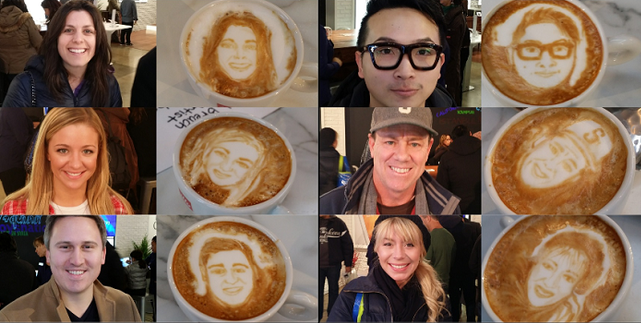 While many baristas have mastered the art of sketching beautiful flowers and hearts, very few can compete with Michael Breach. The New York-based "painter" who has been called the Da Vinci of coffee art can whip up any image that is presented to him with just a toothpick and foam. The now-famous barista spends his days showcasing his talent to an ever-growing fan base around the world which includes numerous celebrities.