1

The father who creates unbelievable cardboard armor for his son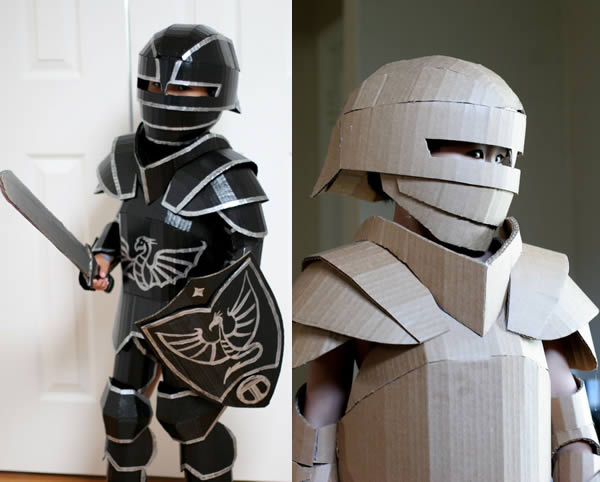 Warren King is a full-time father and artist with a pretty unique product: cardboard sculptures. Now, King is going viral for this unbelievable medieval-style cardboard armor he built for his son. When asked how his son reacted to the costume, he said, "You can probably imagine what it's like for a 6-year-old to put on a full suit of armor and be given a sword and shield. It's pretty gratifying to be able to offer that to a kid."
2

The little girl who got an amazing invisible jet thanks to her balloonist father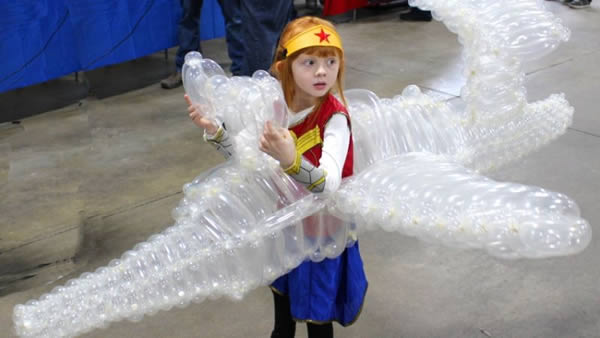 When cosplayers conjure up Wonder Woman's invisible jet, they'll usually just use their imaginations. But one little girl, with the help of her professional balloonist father, brought the make-believe plane to life.
Marty Pants, a Chicago-based balloonist who goes by the name "Smarty Pants," recently shared an epic photo of his 5-year-old daughter, Penny, dressed up as Wonder Woman for a comic convention. But this tiny Amazon has something special—an entire invisible jet! Penny is a huge fan of the DC superhero universe and jumped at the chance to cosplay at the Milwaukee Comic Con earlier this year.
3

The dad who turned his toddlers' kiddie cars into something straight out of Mad Max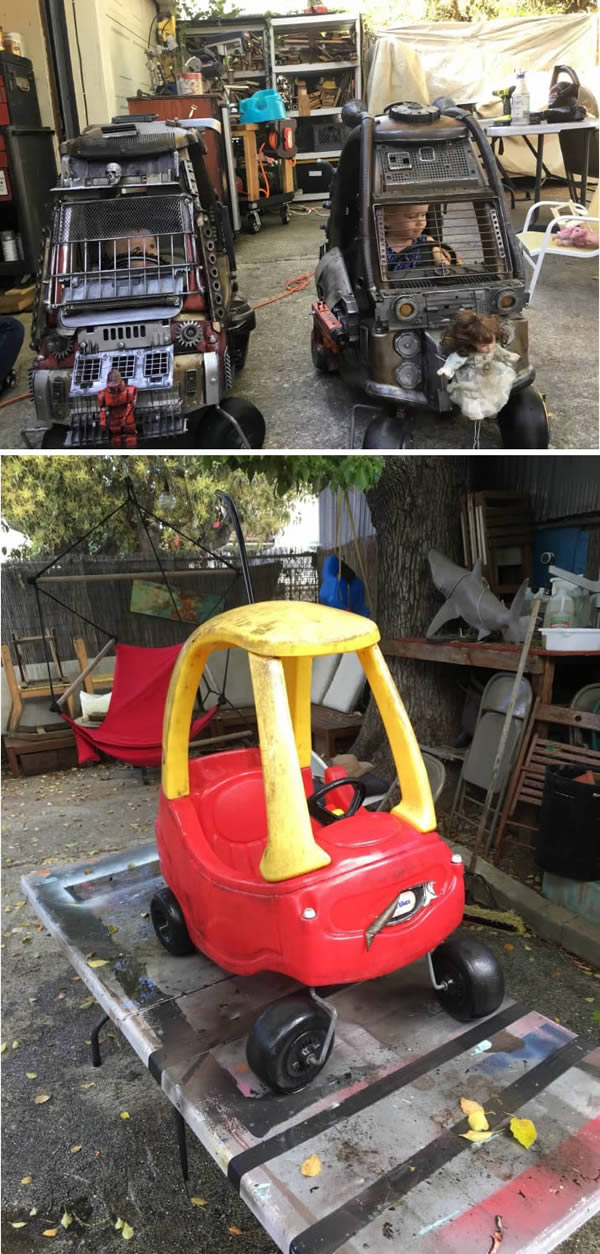 Anyone who saw Mad Max: Fury Road knows that the vehicles in the movie are awesome and totally insane-looking. Well, superfan Ian Pfaff, of Glendale, California, was inspired to make Mad Max autos for his kids, Junior, 2, and Benji, five months.
Ian—who is a director by day and makes props in his spare time—started with two classic Little Tykes Cozy Coupes, then added everything from old computer parts to pieces from an espresso machine. The results are pretty impressive.
4

The amazing dad who built a replica of the American Ninja Warrior course for his five-year-old daughter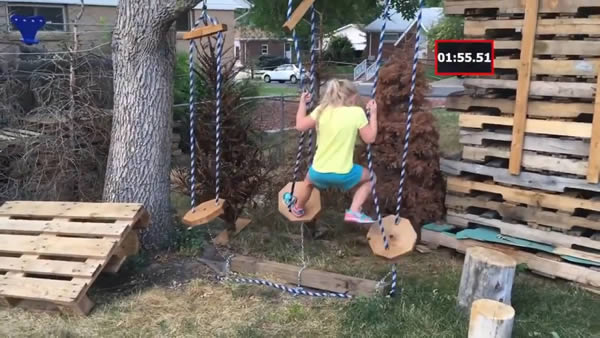 Gavin MacCall has nailed the art of parenting by coming up with the perfect way to entertain his little girl. Lylah has begun her training as an Ninja Warrior very early, all thanks to her dad who built an epic personalized assault course.
The obstacles certainly aren't an easy task for a young girl, but have been given adorable names by the duo, including the "Hanging Steps at Christmas Tree Corner" and "The Log Thingies."
The family is encouraging donations to their own GoFundMe page to make the assault course bigger and better than ever.
5

The dad who created an awesome mech Halloween costume with his baby as the pilot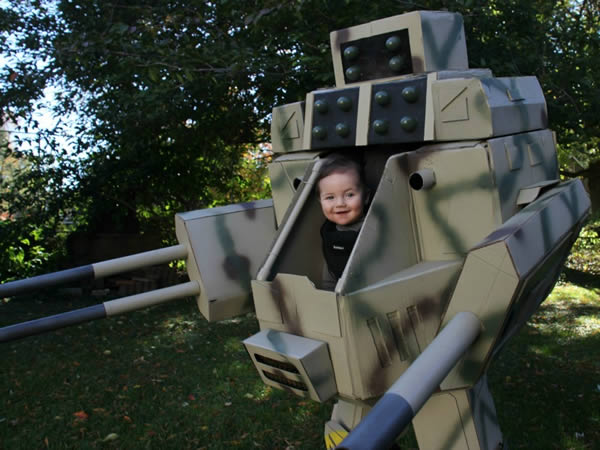 For years, Ryan Bowen planned to create an impressive mech costume for Halloween, inspired by one of his favorite video games from high school. When he and his wife learned they were having a child, he got to work on what is probably the best father-son costume ever created, the MechDaddy.
The MechDaddy is now fully operational and piloted by none other than Ryan's son, Geraint. Inspired by Sunder from the MechWarrior game series, this costume is a fine piece of work, and without question puts Bowen in the running for "coolest dad" of the year.
6

The father who recreates enchanting Disney costumes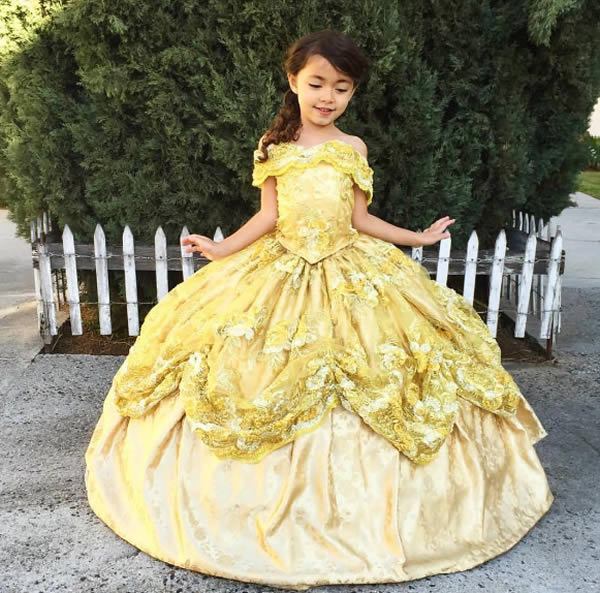 Nephi Garcia, a dad of three, specializes in enchanting costumes based on beloved Disney characters. The fashion designer used to work in high-end fashion, but now devotes his time to designing and selling costumes for his business, Designer Daddy Shop.
The idea for the costume shop started when Garcia made his daughter a Fairy Godmother costume, which she wore to Disneyland. When the costume made its big debut, fellow Disney fans at the park couldn't get enough.
Garcia created an Instagram account under the name "Designer Daddy" to share photos of his costumes, and the next day he had 10 orders. Now, he's booked with orders for more than a year. According to the shop's site, made-to-order costumes for kids and adults can range from $500 to $1,800 for more elaborate designs.
7

The Utah father who created the most epic photo shoot ever as a Valentine 's Day surprise for his daughter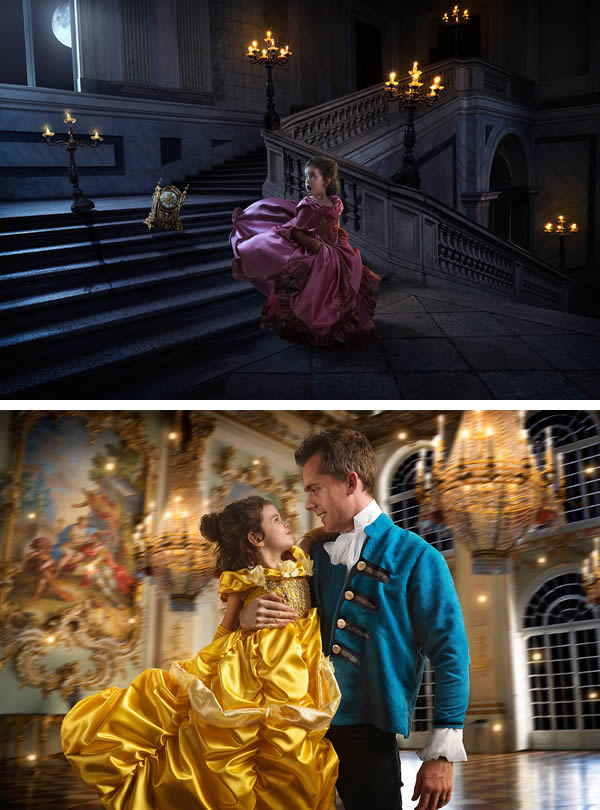 Though she's just three, Nellee Rossi has already been portrayed as Wonder Woman, Little Red Riding Hood, and the legendary female warrior Hua Mulan by her father, Josh Rossi, a commercial photographer. This year, for a Valentine's Day surprise, he went a bit more traditional and cast her as Belle from Beauty and the Beast. He just happened to be traveling in Europe earlier this year and was able to photograph real castles for the background, including the Neuschwanstein Castle in Germany—the inspiration for the Sleeping Beauty castle in Disneyland in Anaheim, California.
Nellee was especially thrilled when she saw the dresses, which were donated by designer Ella Dynae.
8

The father who forged a replica of Thor's hammer for his four-year-old son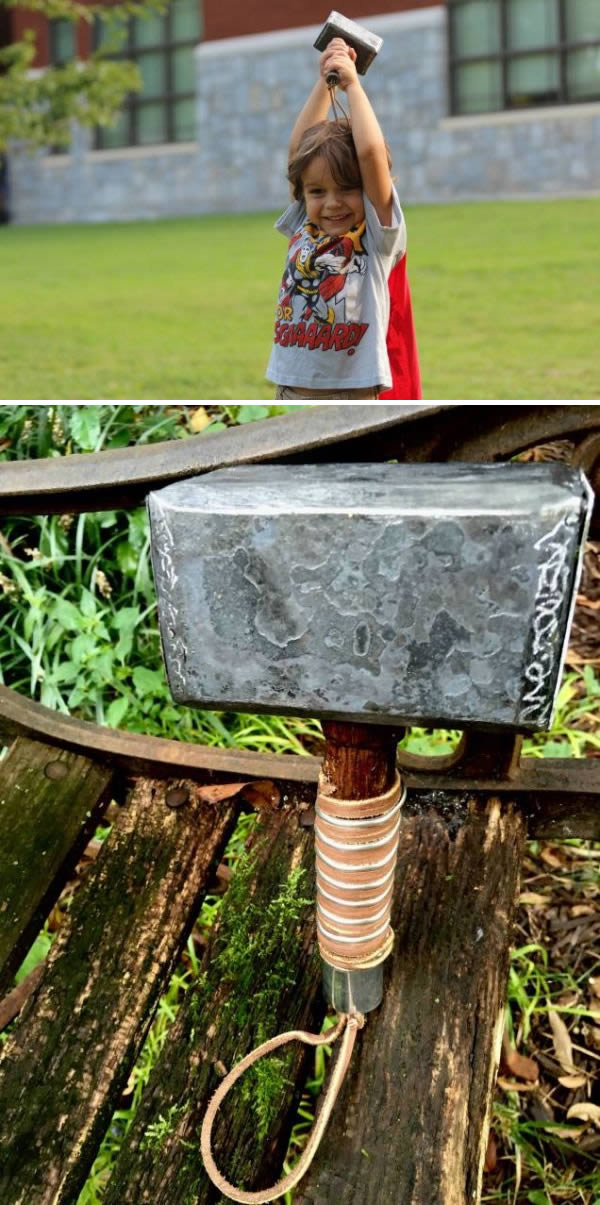 Only a stone-hearted supervillain would deny a child's wish to dress up and play the role of their favorite superhero, and if you're the father of that future cosplayer you really can't say no. And if you're a crafty father, you'll probably just see their superheroic dreams as a challenge to make your kid something amazing.
Redditor Crux1836's son wanted only one thing for his fourth birthday, "a Thor hammer, a REAL Thor hammer!" So daddy went to work with fire and steel and forged a rough, but battle ready, Mjölnir for his son. Now he's probably the only kid in his town with a steel Mjölnir replica (and hopefully he's not a destructive child), but how's the kid supposed to grow up to be Thor if he's never handled a real hammer?