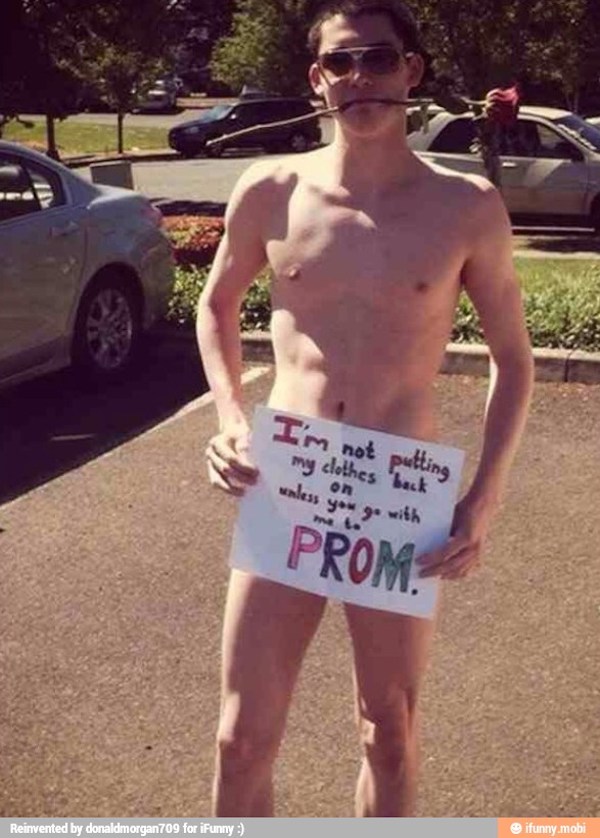 He's "baring it all" for this promposal.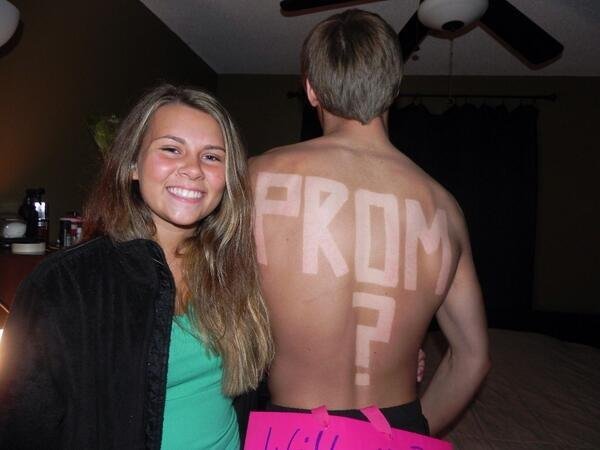 Because nothing says prom like a little melanoma.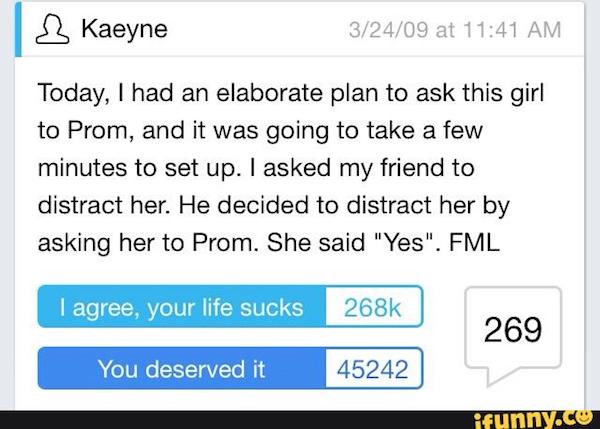 You get no sympathy for such a dumb promposal idea!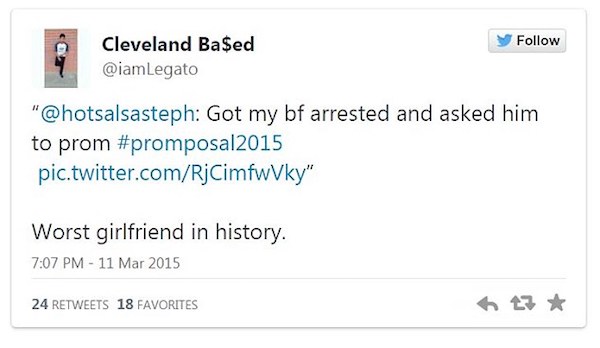 In 2015, a high schooler caused controversy by getting a police officer to jokingly arrest her boyfriend just so she could ask him to prom.
A girl named Stephanie had a sheriff's deputy come into the cafeteria at Knight High School in Palmdale, California and handcuff her boyfriend, Davyeon, in front of his friends. He was then led outside into the parking lot where his girlfriend was holding a sign which read: "Dayveon, can I cuff you at prom?"
The stunt was regarded as romantic by some, but other slammed her actions, with one person calling her the "worst girlfriend in history" while another added: "Is this real? If so did you consider the possible legal, emotional and social consequences of something so reckless."
(He said yes, in case you were wondering.)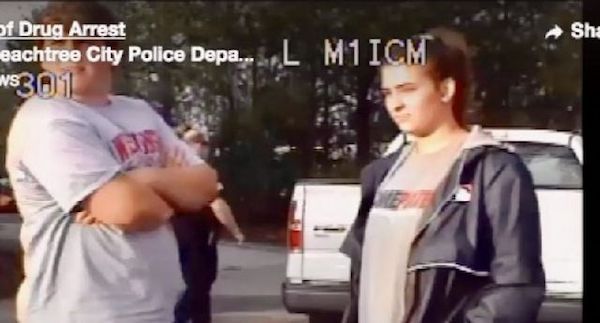 This promposal begins with dash cam footage from a police cruiser tailing a pickup truck in Peachtree City, Georgia. After hitting his siren, he pulls the truck over and approaches the young man driving the car. He informs him he was flagged for criminal activity.
The driver and his passenger, a young woman, exit the car. The officer searches the truck and that's when things take a turn for the worse—to the unsuspecting prom date, anyway. For the record, she did say yes, but what a crazy way to ask!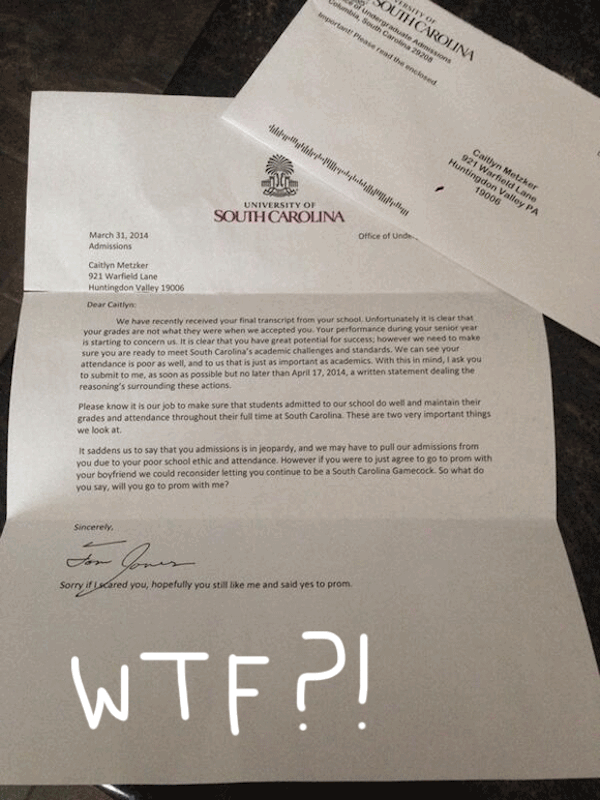 In 2014, a teen asked his girlfriend to prom by crafting a very convincing fake letter from the University of South Carolina supposedly rescinding her admission in the fall unless she agreed to go to prom with him.
It read, "It saddens us to say that your admission is in jeopardy, and we may have to pull our admission from you due to your poor school ethic and attendance. However if you were to just agree to go to prom with your boyfriend we could reconsider letting you continue to be a South Carolina Gamecock. So what do you say, will you go to prom with me?"
At first glance, the somewhat cruel prank looked legit, as it was on official letterhead, but apparently the girl in question wasn't offended. She tweeted a photo of the letter with, "Oh my god Dylan. Thank you for the heart attack." When it started to go viral, she seemed pretty pleased with her viral fame.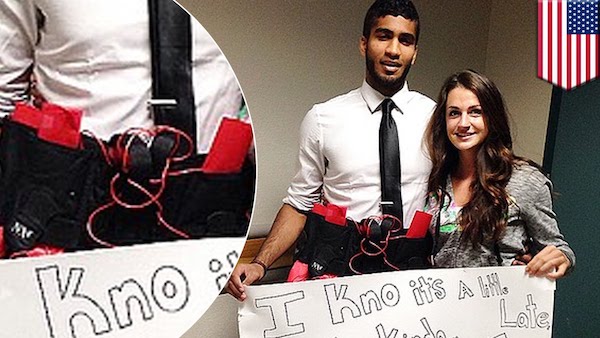 A Washington teen who strapped fake explosives around his body in a stunt to ask a date to the prom has been suspended from school.
Ibrahim Ahmad received a five-day suspension for this promposal in 2015, and he was banned from attending La Center High's dance that year.
Ahmad questioned whether the decision to suspend him was based on his ethnicity. "It was really unfair, and it kind of felt racist," he said.
The then 18-year-old senior wore a vest filled with paper-tube props made to look like explosives.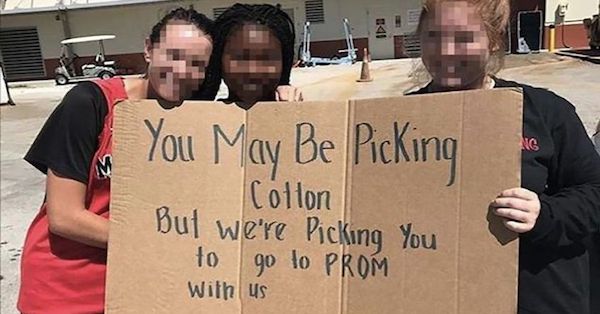 This racist promposal was spotted on Twitter by an alum of Monarch High School in Coconut Creek, Florida. "You may be picking cotton but we're picking you to go to prom with us," the sign, held by three girls, reads. The caption of the now deleted post read: "She said yes."
The authenticity of the image has been confirmed, and the three girls are current students at Monarch. When contacted, a receptionist said that the principal is "aware of" the photo.