Because one man's trash is another's man's treasure...
If you're browsing through flea markets, helping someone move, or are cleaning out your old house, you'll be up to your neck in "junk." But junk isn't all necessarily trash, and junk piles provide you with awesome opportunities to find new treasures.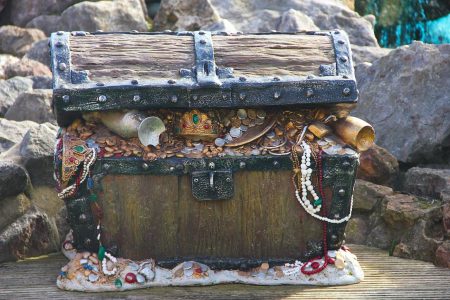 If you're lucky, you might find an old work of art worth thousands of dollars – or a new dresser that works perfectly in the corner of your bedroom.
What can you do to maximize your chances of finding treasures in junk piles?
Setting the Stage
Let's start with some of the basics:
Identify the ideal environments.

Different environments have different levels of potential for offering valuable objects. If there is a flea market that's been running for several weeks, and the sellers only have leftovers remaining, your chances of finding very interesting or valuable materials will be low. If you're going through a house that hasn't been touched in decades, with piles of well-preserved containers, your chances of finding something valuable are much higher. Set your expectations accordingly.
Get the right materials.

If you're just browsing a flea market or shopping at various garage sales, you won't need much in the way of special materials. But if you're clearing out massive amounts of waste from someone's house or business,

you'll want to rent a dumpster

, purchase protective equipment like goggles and gloves, and pick up a few cleaning supplies as well. It may also be a good idea to rent a van or truck if you don't have one, so you have room to load up any treasures you might find.
Understand what constitutes a "treasure.

" What constitutes a treasure in your mind? What would be worth keeping? Are you looking for something with significant resale value? Are you looking for items of sentimental or emotional value? Are you just looking for something practical to keep for your own house, or are you looking for a gift for someone? There are many valid motivations, so consider yours carefully.
Enlist the help of the right people.

It's much easier to find treasures and clear out old junk if you're working with a team of people. Enlist the help of friends or family in this endeavor.
Set your limitations.

Understand your limitations. How much are you willing to pay for something interesting that you find? Is there an upper limit for different objects of interest on your radar? Do you have a way to transport things to their final destination; and if so, is the amount of space you have limited?
Doing the Work
When you have all of that set up, you can start doing the actual work. That usually means sorting through piles of different objects, including genuine trash. When you find something remotely interesting, set it aside for later inspection; when you find things that aren't worth anything, simply throw them away or move on.
Trust your instincts.

It's tough to

differentiate total "junk" objects and objects with practical or resale potential

. You typically can't afford to spend hours agonizing over every little decision, so it's typically faster to trust your instincts. If something looks like total junk, it probably is. Be on the lookout for unique antiques, items of practical value, and works of art or cultural significance.
Be ready to search online.

To validate your instincts, be ready to search online. When you find something truly interesting, type a description of the object into your search engine of choice and see if you can figure out whether it's valuable.
Look for flaws.

Just because something may be valuable doesn't mean it is; if the item is in bad condition or if it doesn't work properly, its value will plummet. Always inspect potential treasures for flaws.
Be on the lookout for counterfeits and lookalikes.

You also need to be on the lookout for potential counterfeits and lookalikes. Just because an object bears visual similarity to another object of value doesn't mean it's the same object.
Negotiate (when appropriate).

Negotiation skills

can help fetch a lower price or win a bidding war. Be prepared to utilize negotiation fundamentals in pursuit of an even better deal in your favor.
The Final Moves
Once you have a small pile of treasures, you'll be ready to move on to the final steps: 
Restoration/repair.

Certain objects are so valuable that they're worth picking up, even if they're damaged or destroyed. Are you prepared to restore them or repair them to their former glory?
Cleaning/detailing.

In most cases, if you found an object in a junk pile, it's going to require cleaning or detailing.
Sale.

When ready, you can sell this item at another flea market, to an individual buyer, or at auction. The possibilities are truly limitless.
Even if you spend hours of time every week browsing through piles of junk and looking for new buying opportunities, there's no guarantee that you're going to find a secret treasure or retire early because you found a long-lost piece of art. 
That said, if you never pick through junk, you'll shut yourself off to some amazing opportunities. If you set the right expectations, incorporate the best materials, and follow this set of strategies, you might end up walking away with an asset that changes your life forever – or at least something to liven up the living room.