If you thought charged for her terrible job was bad enough, see what else this hairdresser did.
This is a part two, so if you need to read the first part, click on this title. Read Hairdresser Got Drunk Necking Gin While at Work: Part One, then come back and finish up here with the rest of the story.
"I didn't sleep properly, I kept waking up all night and I messaged a stylist at 2am saying 'please can you fit me in tomorrow morning because you're never going to believe it. 'You're going to see this weave and you're going to laugh your head off, honestly it's so bad'," she said.
"When they asked what was up with it, I replied 'What's right with it? When I sit on the chair, she told the hairdresser,  you'll see'. "Everybody's eyes were popping out of their heads and their jaws were dropping, all the stylists were saying it's the worst weave they've ever seen'.
"When the hairdresser got to the second row, that's when she found the needle." She found it because she pricked her own finger on it. 
"She couldn't believe it was there and said 'what the hell? Where did that come from?' Emily couldn't believe it, "I remember thinking, 'oh my god that could have stabbed me in the head all night.'"
Emily reached out for a refund and upon getting no response, posted to Facebook. She finally heard from the lady who offered to fix her hair, but she declined.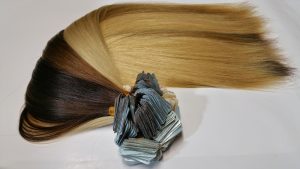 "I shared the post because she was ignoring my messages. She sent me a voice note saying 'I'm sure I've done a really bad job, I'll come back on Wednesday to sort it out.
"I said I would be out and then asked her for a refund and she started kicking off. She then started saying she should have charged me £110, which is the standard price for all of those hair treatments, and offered to refund me £30.
"I contacted her boss who said a message would be passed on, but mentioned it happened outside of work and was nothing to do with them.
"I won't be letting her do my hair again and I've contacted Trading Standards. I just want my money back, I also don't want anyone else getting the same treatment."
Thanks for taking one for the team, Emily. And for letting us know.