The customer called it the "worst hair style of 2020."
Emily Hunt, 24, went to a former work colleague for a highlight touchup and to get some extensions put in. But her hairdresser had other ideas. 
Emily says her pal said yes and asked for a small fee, to cover the cost of the hair dye and to sew in the hair piece. Everything got weird after that though.
The hairdresser took over four hours to do her work, including washing her own hair and "necking gin."
Emily said it was the worst hairstyle of 2020 and that her hair just summed up the year. Someone even commented on her post with "if 2020 was a weave," saying it was "so bad."
"As she was leaving I knew it was terrible, I just wanted to go upstairs and die. She was drunk when she did my hair, she got drunk drinking my gin."I think it was a combination of her being a bit drunk and not being very good at weaves."
"She'd said 'I thought I was going to come round for a drink' and I said 'yeah we can have a drink if you want and we can do my hair another time' and she went 'no we can have a drink and I'll do your hair. Trust me it'll be fine I'll be able to do it'.
"I thought she'd only have one while she was doing it, I didn't expect her to get that bad. I'd bought this bottle of gin, she was drinking it more than me. She had about four or five glasses of gin, I only had two."
"The next day when I looked in the mirror I thought 'I can't even go out like that'. I tied it in a bobble very low down on my head and tucked it underneath my coat and walked to the hairdressers. When I got out of the hairdressers I cried with relief that my hair was sorted."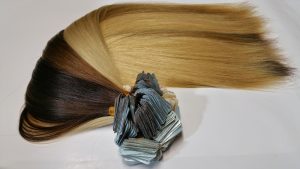 The woman demanded Emily pay her for the service, even after admitting that she was  "sure she'd done a terrible job" from what she could "remember." Emily hated her hair,  even contacted the hair salon at 2am, pleading for any last minute appointment. 
For the rest of this story, read Hairdresser Got Drunk "Necking Gin" While at Work: Part Two. Just click the title for the rest of the hairy details.