Saving people while prancing about with four limbs is for amateurs. Here's how a real hero does it!
They say heroes come in all shapes and sizes. But it takes a very special kind of person to decide that having a full set of limbs would just slow you down.
Yet, that is exactly what a New Jersey lifeguard determined before jumping into Newark Bay and swimming out to pull a man out of a sinking car. All with just one leg.
Granted, when it comes to ripping off your own leg, it helps a lot when said appendage is already prosthetic. Nonetheless, it doesn't make the lifeguard's stunt any less mindblowing.
The hero in question is Anthony Capuano, a resident of Elizabeth, New Jersey. He is a professional lifeguard and a certified swim instructor at the British Swim School in Bayonne.
And yeah, he has only one leg. Eat your heart out, Baywatch, this is a real lifeguard.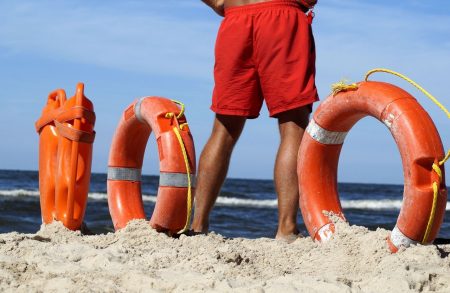 Car Overboard!
On November 10, Capuano was leaving a gym where he had just finished his workout with his friend, Marcelino Cruz. Suddenly, they heard screaming and saw some 20 people gathering at the shore of Newark Bay, Capuano told Jersey Journal.
"I saw people running and we did the same," he recounted in a separate interview with ABC News.
When Capuano reached the group, he realized the seriousness of the situation. An SUV had plunged into the bay and was rapidly sinking some 50 feet away from the shore.
The driver was locked inside the car.
Helena Bilodaeu, a Bayonne resident, was also present at the times. She told ABC that the driver was hanging out of the car window, yelling for help.
"The car is way out in the water, with the man out the window. He is yelling something and the car is going down," she said.
There was confusion amongst the crowd about how they should help the man. Capuano heard someone ask if anyone knew how to swim, and that's when his lifeguard instincts kicked in.
"I was just like: 'Oh, I guess that's me,'" he told Jersey Journal.
Before getting in the water, though, Capuano astonished the gathered crowd by pulling off his fake leg.
"I hopped over the fence and when I got onto the rocks, I took off my leg and I crab walked over the rocks," he said.
Just in the Nick of Time
Just seconds after, Capuano was joined in the water by his friend Cruz. Together, they swam out to the car.
Capuano told Jersey Journal that he and his fellow rescuer reached the car at the last possible second.
"It was that moment when a car goes into a body of water where all the air releases and then the car sinks. That's basically when I pulled him out," he said.
He recalled that the 68-year driver, Joseph Kadian, was gripped by panic. And for a good reason – the man couldn't swim.
"I said: 'It's OK, I'm a lifeguard,'" said Capuano.
And guard the man's life he did. The two rescuers swam to the shore and pulled the shocked driver onto dry land, safe and sound.
Impressed Peers and a Concerned Father
Capuano, according to a Jersey Journal report, was 17 years old in 2009, when he slipped on train tracks. A freight train hit him and took off his right leg.
In a twist of irony, the day he lost his leg was also the one when he had just finish his lifeguard training.
"The day that I lost my leg, I was supposed to pick up my certification card," explained Capuano.
At the time, he was saved by his brother and quick-acting paramedics. Now, he paid back the debt of his life.
"We were amazed that this man, Anthony, was the one that went in there," Bilodaeu, who saw the whole thing, told CBS News. "His physical condition did not stop him."
Capuano's heroics earned him accolades from several parties. Robert Staph, Capuano's boss at the British Swimming School, had nothing but praise in store for him.
"The fact that one of our instructors does what we preach and what we stand for on a daily basis, and in such a heroic manner, it's unbelievable. I'm so proud of him," Staph told CBS.
Even Bayonne Mayor, Jimmy Davis, gave Capuano his thanks.
"Anthony's instincts and professionalism just took over, he jumped in, didn't think about his own safety," the impressed Davis said.
According to Capuano, though, he has also heard some criticism. Namely, from his own dad.
"He was like, 'You went in the bay? Do you know how dirty that water is? Do you know about the currents? You know how dangerous it is?'" Capuano told Jersey Journal.
An Inspiring Example
An investigation by the police found out that Kadian and his car ended up in Newark Bay as a result of an accident. A generally responsible driver, Kadian was attempting to pull over to answer a phone call.
"It was determined that while pulling over to answer a call and attempting to park, the driver lost control of the vehicle and simultaneously had his foot on both the brake and accelerator pedals," said a statement by the Hudson Country Sheriff's Office.
"This caused him to accelerate the vehicle into the bay."
As it careened into the bay, the car also damaged the fence and rails that were supposed to keep things from getting into the water. That's some shoddy construction.
Lucky for Kadian, though, Capuano was ready to help. He encourages everyone to look after their fellow people, no matter what your physical condition might be.
"To my fellow amputees out there, I want to just say, don't let anything stop you," Capuano told CBS.