Not that much different than calf fries, right?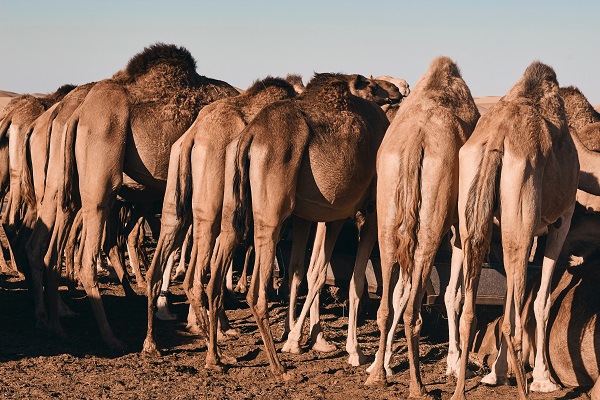 What would you do if a 600-pound camel sat on you? If you ask this Florida woman, the answer is to bite his testicles…
From Florida To Louisiana
Gloria Lancaster, 68, lives in Milton, Florida. She and her husband were visiting the animal pen at a Louisiana truck stop called the Tiger Truck Stop. The Lancasters' unleashed dog ran under the fence and into the camel enclosure. Mrs. Lancaster ran in after her tiny, deaf dog.
"I'm not going to lie… I bit them."
Video shows her husband throwing treats into the pin, though they deny the accusation. While chasing her dog, Mrs. Lancaster was stomped and sat on by the camel. She yelled to her husband, Edmand Lancaster, to grab the dog, and then realized her predicament. Her arms were pinned and she told Mercurynews.com: "I thought I was already dead. But God… God will always make a way out where there is no way. On the side of my face was his testicles… I'm not going to lie, I bit them."
And The Victim Narrowly Escaped
The camel let her up, and Mrs. Lancaster scrambled to safety. She suffered multiple injuries, the worst of which was a broken collarbone. She and her husband were fined for criminal trespassing and for not restraining their dog.  "Someone asked me yesterday what would I like to happen to the camel? Nothing. I don't want anything to happen to the camel.
If I had to do it over, even though I'm hurt and facing surgeries, I would do it again," she admits.
She Doesn't Blame The Camel
"The owner should have made sure it was safe. He says he wants a petting zoo and wants children to be able to make sure that it's safe before you put a child in that environment. Mrs. Lancaster admits her dog should've been leashed, but she says that the enclosure is not safe. Especially if they want it as a children petting zoo.
What Are They Doing About It?
Pamela Bossier, Manager of The Tiger Truck Stop, says nothing like this has ever happened before. She blames the owner and dog.  "None of this would have happened if they just would've had the dog on a leash instead of letting it roam free in a truck stop," said Bossier. She has put more barbed wire to the camel enclosure and has put up new law signs that say you have to leash your pets. The camel is undergoing a course of antibiotics for the bite.
Want to tell your strange story?
Tell us about it
and it could be featured on Oddee. You can remain fully anonymous.