But the rent gets paid, so they get to stay.
Everyone knows how expensive California is, especially if you live there. It's even expensive for cats.
Silicon Valley has two very pampered cats living in a casita located behind a single family home in Willow Glen.
Louise and Tina spend their time lounging in a cat tree mostly. But according to the landlord, David Callisch, they keep to themselves, don't complain and always have their rent in on time. Their $1500/month rent that is, for just a studio.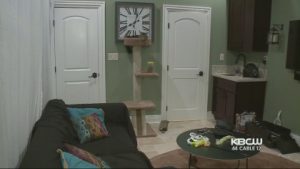 "It's quirky isn't it? I never planned for this to happen," said Callisch. "People love their pets, they're part of their family, so I wanted to help out my buddy."
His buddy is Victoria Amith's father. Amith goes to school at Azusa Pacific University in Southern California and when she went away to school, she couldn't take them with her to the dorms.
"He says, 'Hey, would you mind if I–how about if I rented your place?'" said Callisch. "I said, 'Well, what do you mean?' He says, 'Well, you wouldn't have to deal with people all the time if you rented it, and I could stick the cats there. I'm close, I could come visit.' I said, 'Really?'"
The studio comes with a bathroom and shower as well as an Apple TV. The only thing it's missing is a kitchen. But who needs that, if you're just cats.
The cats are getting a good deal even at the steep cost. Other rentals in Willow Glen are just short of $2000.00/month.
Amith says it's temporary until she gets her own place after the school year. "It's not in a public space, it's in someone's backyard, because there's obviously a huge housing issue in the area, and I don't want people to be like, 'Oh, this is taking away the housing,'" Amith admitted about the arrangement.
The cats are living in a place where the differences between the haves and have-nots are very obvious. The housing prices are sky high as in most of expensive California. 
"It's difficult because there is so much homelessness and there's so much disparity in incomes in this Valley and it's hard, and one person can't solve those problems," Callisch shares.
The cats have lived in the studio since July. Callisch feeds then each day and Amith visits when she can.
Want to tell your strange story?
Tell us about it
and it could be featured on Oddee. You can remain fully anonymous.