Whether you are thinking of your perfect home office to run your own business from or to do remote working in, it is best to make sure that you have an area you can grow into and get the best out of. Whether you are using an existing space or creating a home office from scratch, there are a few fundamentals that need some careful planning.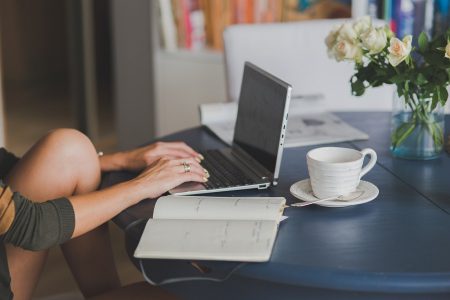 Start with the basics
These are things like power sources, windows or natural light, ventilation, and temperature. It is not just important to have power sources where you are thinking of having your technology, but you also need to think about if you would like extra technology in the future or maybe a fridge, coffee machine, or water filter.
Making sure that you have a good source of light, whether it is natural or artificial, and whereabouts it should be placed is another important factor. Fresh air is very important, especially on hot, stuffy days, maybe some kind of air conditioning unit is a good idea to keep the temperature stable and comfortable.
The correct color scheme
Another thing to think about is the color scheme. You may think a bold, bright color could be a good idea, but if you have too much bright color, it could overwhelm the senses and overstimulate the brain, causing headaches, loss of concentration, and could even create a negative atmosphere.
Go more for pastel shades. If you want bold, bright color, add it in small areas such as the finishing touches or in items such as a desk tidy or notice boards.
Shop for tech
If you feel that you may be lacking in space or are likely to be out and about working, and not only from your desk, investing in a good quality laptop rather than a desktop computer could be a really good way forward. Make sure you have plenty of room for the number of monitors you feel you may need as well as a good quality printer. There are so many brands available with so many offers, such as those available from Lenovo, which are also perfect for your after-work activities, like gaming.
The ideal desk
Getting the correct furniture for your space and your comfort is very important. Just because it is all the rage and the heat of fashion does not necessarily make it the best on the market. Do your research before you buy and make sure that the desk you chose will house everything you need and still have some room left over.
If you require storage with your desk, make sure it comes as standard or that you have room elsewhere in your office to put it. Make sure that there is plenty of legroom under your desk and that it is of a comfortable height.
The perfect chair
When purchasing a chair, make sure that it is comfortable for you and that it has an adjustable seat height and backrest lumbar. Ensure that when you are sitting at your desk, your feet are firmly on the floor, and your back is right into the backrest to help guard against bad posture and back pain. If not, you may want to purchase a footrest for under your desk.
For comfort's sake, think of an area you can have five minutes of chill-out time in with a comfy seat and maybe a small table away from the computer screen. It could be an idea to have a small fridge for drinks and snacks or a coffee machine so you can have a drink as and when you want without having to go backward and forwards to the kitchen.