The best part about it being asparagus month in May, is that asparagus is seasonal, delicious and the best price in its peak. Here are all the best ways to eat asparagus and enjoy it this month.
Oven-Roasted Asparagus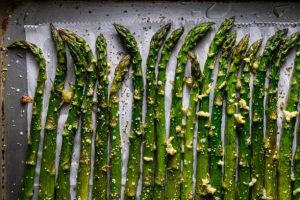 When you put this vegetable into the oven it turns nutty and delicious. Add some salt, pepper, and garlic and it turns from yummy to superb. Start with some fresh asparagus and snap off the bottoms,(about an inch or so on the bottom will snap right off.) Lay it onto a baking sheet and cover with oil, salt and pepper. Garlic powder is a great addition, too. Cook for about 30 minutes at 350 or until it's browning and softer. 
Cheesy Garlic Asparagus
Parmesan and garlic can make almost anything extra delicious, and when you talk about adding them both to asparagus, well, you just know it's gonna be good. Snap the end of your spears and lay them on a baking sheet. From there add oil of your choice, a sprinkle of garlic powder, salt and pepper and place it into the oven. Wait, where is the cheese? Don't worry, you'll be adding it at the end, along with more garlic. So Let this cook at 250 for about 15 minutes. Take out and top with parmesan cheese and some diced garlic. If you add the fresh garlic at the end it won't get too done and the cheese with be beautifully and deliciously "draped" over the top. Yum. 
Pasta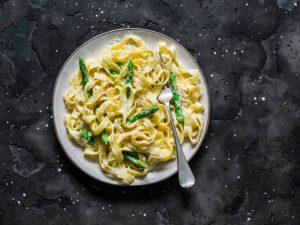 The thing about pasta is that you can do whatever you want to it, add or not add, and it's still almost always delicious. Make and drain the pasta, according to box directions, saving about a cup of pasta water. Prep your asparagus to your liking as well. Mix in a sauté pan and add whatever you like. Mix-ins could be a red or white sauce, a ton of seasonings including garlic and adding parmesan. You could also eat it as is, to taste both the noodles and veggies in all their glory. And last but not least, you could make a noodle stir fry out of the whole thing and add additional veggies you want. And don't forget to keep that pasta water on hand, to help the sauce along!
Bacon Wrapped Asparagus
This is one of the best recipes you will try, and it's so easy. Whether you have a traditional oven, an air fryer, a grill or even a skillet, you can make this wonderful side. Just take the spears, and snap the ends off. Depending on how much of a bacon lover you are, you can use half or full slices. Just wrap the bacon around the spear and lay on a baking sheet, or put it right into your air fryer or onto the grill. If you are going to bake them, put them all on a baking sheet first.) and otherwise into a sauté pan. A dash of black pepper and a sprinkle of salt will bring these flavors together in a way you never knew. Cook until the bacon is to preference and the spears are soft. 
Garlic Asparagus with Bacon
In a sauté pan, mix cut up and bite-sized pieces of asparagus and bacon and let them cook until both are to preference. Add in some garlic powder and fresh garlic, diced, (this will give it a multi-dimensional garlic flavor,) in the last couple of cooking minutes. Add salt and pepper to taste. This dish is a must try. 
Parmesan Asparagus with Rice
For this dish, use either premade or "day old" rice, so that you can throw it in when the dish is ready. Snap the ends of your spears and add them to a sauté pan with oil. Add salt and pepper and cook to preference. When the dish is about done, add the rice and parmesan. Turn the heat down, mix the dish and let the cheese warm and the rice come to temperature, and enjoy.
Dijon-Lemon Sauce
Start by preparing your asparagus to your liking, whether you sauté, roast, grill or steam it. From there, make the sauce. Combine a bit of olive oil with some lemon rind, lemon juice, mustard and pepper in a small bowl. Stir the sauce mixture with a whisk and drizzle over your cooked asparagus. Top with parsley if you like. This combination is savory and delicious and a great way to experience this delicious vegetable. 
Asparagus with Cheese Sauce
Make a cheese sauce using butter, cream, and whatever cheese you like. I would go Italian with this and use a three or four cheese blend. Make sure to add salt, pepper, and garlic to your cheese sauce to taste. Cook your asparagus by either grilling it, sautéing it, or baking it and pour your cheese sauce, with an additional sprinkle of black pepper, and enjoy.
Asparagus is a earthy, green, yummy veggie and perfect for this time of year. You'll always know you ate asparagus when you use the bathroom! Ha, if you know, you know.