This is the sad story of a woman who seems to have been ignored to death.
When people go missing, it may seem that Earth has just opened up and swallowed them without a trace. But the truth is that even disappeared folks are always somewhere.
Sometimes, they may never have even left home. Construction workers in New York City recently found that out in a horrific way.
On April 26, crews were working on scaffolds outside the seventh floor of a South Jamaica Houses apartment building in Queens. The apartment 7-H's windows were open and — glancing inside — the workers noticed something chilling.
On a bed inside the apartment laid the skeletal, decayed remains of a human being.
Authorities later confirmed that the body belonged to one Marilyn McMichael. McMichael, 54, had been reported as missing in January 2022.
However, she may have been dead for far longer than that. Based on the advanced decomposition of her body and the open page on her calendar, McMichael may have died already in August 2020.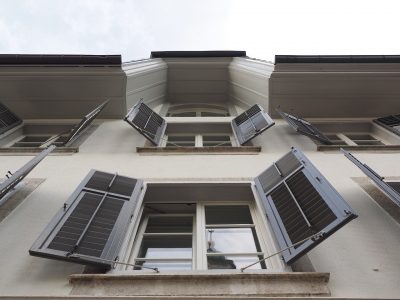 'She Wouldn't Talk to Us for Years'
But how could it be that McMichael had been missing for a year and a half in her own apartment? Wouldn't her landlord at least have figured out that one of their residents is no longer paying rent?
That's what McMichael's foster sisters, Best Jones and Sharman McElrath, would like to know. They feel that their loved one was let down and may have even died because of neglect from the authorities.
But they do say that it was nothing unusual for McMichael to go silent for extended periods. Jones and McElrath told News10 that she suffered from various emotional problems.
"She wouldn't talk to us for years, because she didn't want to," Jones said.
"Not hearing from her was not uncommon. A couple of years would go by. She was particular — and peculiar," she added.
Despite her solitary nature, Jones would eventually let her foster sister know somehow that she still existed. But this time, things were different.
Last Contact
One of the last times Jones and McElrath heard from McMichael came in June 2020. The first wave of the coronavirus pandemic was just about to start dying down when they got a call from McMichael.
"She wanted me to take her to the hospital," McElrath recalled.
"She didn't sound sick at all, she sounded a little manic, and I was trying to explain to her they're not accepting people at the hospital."
Nonetheless, McMichael's behavior on the phone concerned Jones and McElrath. Together, they decided to go and visit their foster sister — to no avail.
"We would never get her to come to the door," Jones said. Despite knocking and calling for McMichael, she never responded.
This wasn't unusual behavior for McMichael, though, so Jones and McElrath decided to let the matter be.
Unhelpful Authorities
But as time went on, the two got increasingly worried. Finally, on January 26, 2022, they decided to file a missing person report.
McElrath and Jones met with housing police officers from the New York City Housing Authority (NYCHA). From them, they learned that McMichael had not paid her rent in more than a year.
To their further surprise, the NYCHA started resisting their attempts to file a police report, the foster sisters claim. The officers told them that they couldn't do that because they weren't next of kin.
"They said my parents were on the emergency card and I let them know they had both been dead for over 20 years," said Jones.
Finally, the two convinced the NYCHA managers and a police officer to go with them to open McMichael's apartment. But when they tried, the master key wouldn't fit her lock.
"And they never tried again and they said they would. They said they had an investigator that would find her," recalled Jones.
But the investigator must've been busy because three months later the construction workers discovered McMichael's skeleton. The NYCHA didn't even report the death to Jones and McElrath — they had to hear the news from McMichael's neighbors.
'You Treat a Dog Better'
Now, Jones and McElrath are left with nothing but questions. Why didn't the NYCHA do anything at all, even when they knew McMichael hadn't paid her rent in ages?
"She was treated, to me, less than human. You treat a dog better than that," McElrath said.
According to news reports, the NYCHA has an emergency services team. They are authorized to breach a tenant's door in order to perform a wellness check.
But clearly, that never happened. When reporters asked the NYCHA about the matter, they were told to "reach out to NYPD for more information, as this is a police matter."
We have to wonder how much use that would be, though. Jones claims that the police told her that McMichael could be "on vacation" when they reported her as missing.
This isn't the first time NYCHA's management practices have come under criticism this year. After the January 2022 fire that killed 17 people in the Bronx, inspectors found the NYCHA building had multiple broken smoke alarms and malfunctioning ovens.
Medical examiners have McMichael's remains, but they say it could take up to six months to discover the cause of death. Meanwhile, Jones and McElrath have announced McMichael's death on Facebook to let people who knew her know that she's no more.
"We wanted her to have a voice through us, knowing 'I was here, and I had a life on this earth,'" said McElrath.