Out of all the animals you could farm… Why this?
You're walking in pitch-black darkness through the narrow corridors of an industrial-sized hangar. You're sweaty and nauseated, as the air is thick with intense heat, humidity, and the stench of rotting meat. But the worst thing of it all is that awful, ever-present noise all around you.
It sounds like the pitter-patter of rain, but it's nothing so wholesome. That terrible sound is the scurrying footfalls of a billion palm-sized cockroaches.
What's worse is that this is not a scene from the latest Hollywood horror blockbuster. This is the everyday reality of a cockroach farm.
Yes, there are people who farm these revolting pests. In China, cockroach farms are burgeoning business, with an estimated 100 farmers active across the country.
The farm described is managed by a gentleman and professional bug farmer called Yin Diansong. His facility is located in eastern China in Zhangqiubei, near the city of Jinan.
On the map, that's roughly halfway between Beijing and Shanghai. Just so you know not to go anywhere near the place.
"We have 60 small rooms. There are 20 million cockroaches in each room," Yin told Australian ABC News.
"In total, there are one billion cockroaches."
Every day, the farm's impressively elaborate system of pumps and pipes dumps 50 tons of kitchen waste collected from restaurants onto metal shelves. In case you were wondering where that rotting meat stink we mentioned comes from.
And the roaches eat all of it, down to the last scrap. Every single day.
Are you feeling itchy yet? Because your author here sure as **** is.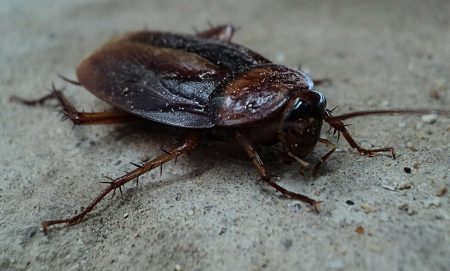 Solving Two Problems With One Roach
If you're anything like me, there will be a single word in your mind right now: "Why?"
Well, there are two reasons, according to the cockroach farming project's head Li Yanrong. First of all, the whole thing was started as an experiment to deal with food waste.
It makes a particularly twisted kind of sense. Cockroaches will thrive wherever there is decaying food, so feeding the garbage to roaches is a great way to get a whole heck of a lot roaches.
But why, why in the name of all good things on this wretched Earth would you want more cockroaches?
To kill them and grind them up into a fine powder, is why.
Huh. I can definitely get on board with that.
Cockroaches, and bugs in general, are rich in protein. Mixed into animal feed, the roach powder provides a cheap, nutritious, and – unfortunately – practically everlasting feed supplement.
"If we can farm cockroaches on a large scale, we can provide protein that benefits the entire ecological cycle," explained Li.
"We can replace animal feeds filled with antibiotics and instead supply organic feed, which is good for the animals and the ground soil."
Although Li readily admits that the roach farm may prove unprofitable in the long run, the business is seeing results. More traditional farm animals – including chickens, duck, goats and pig – of the surrounding area are already subsisting on cockroach protein.
Would they care if they knew what they're eating? Let's not find out.
Bad Medicine
But even if the animal feed business were to go bust, Li and Yin may still have a buyer for their roaches. As mentioned, there are about a 100 roach farms in China, and Zhangquibei project is unique in working in using the roaches for feed.
Most of the roach farms instead supply China's traditional medicine industry. Crushed roaches are said to be useful for healing scars, and traditional healers claim that when drunk in a medicinal concoction they will reduce the size of tumors.
It's not only in China that people are looking into making something good out of cockroaches, either. Scientists at India's Institute for Stem Cell Biology and Regenerative medicine have found that cockroach milk…
Wait, what? No, please, please no… No, says it right here in New York Post, cockroach milk.
The pacific beetle cockroach is unique among their whole wretched species in that if gives birth to live young. To feed its verminous offspring, the roach lactates "protein-dense crystals, which pack fats, sugars, amino acids, and more than four times the nutrition of cow's milk".
"It's time-released food. They can be a fantastic protein supplement," said the study's lead Subramanian Ramaswamy.
Yeah, sure, whatever. Good luck marketing that.
Prison Break: Cockroach Edition
Despite the apparent benefits, cockroach farms aren't exactly popular. Many of China's farmers hide their facilities underground or in giant fully-sealed complexes and don't publically advertise what they're farming.
These measures are necessary, since the farmers are concerned that public wouldn't take too kindly to knowing that they're living next to billions of cockroaches. Go figure.
Maybe the good people are concerned that the roaches might break free. Unfortunately, that's not an unfounded fear.
In 2013, all hell broke loose in the Dafeng district on China's eastern coast. A vandal damaged a local cockroach farm, resulting in at least a million of the skittering pests escaping to the surrounding area.
The incident cost the farmer thousands of dollars in damages, not to mention the cleanup operation that officials staged.
To prevent something like this from happening, Li's farm in Zhangqiubei is surrounded by a water-filled moat. In the water are ravenous fish, ready to devour any roaches attempting to swim for freedom.
That all sounds good, but will it be enough if millions upon millions of roaches suddenly try rushing for freedom? Can the fish eat them all, or will the bugs just run across a bridge of their less lucky brethren?
Let's hope no one never, ever has to find out.