If anyone's ever going to break into your home, hope it's this guy.
One of the worst surprises you can get is to come home and realize someone has broken in. At worst, you might've lost thousands of dollars' worth of stuff – or run into an armed burglar.
Even if you lost nothing, you'll probably never trust a lock again. Unless the person who broke in is Louis Angelino III.
Angelino – from Barrington, NJ – work as a clerk at a liquor store. However, to make ends meet, he also runs private cleaning gigs on the side.
One day in June, Angelino was on his way to clean a new client's apartment. However, he ended up at a wrong address and unknowingly broke into somebody else's home.
Of course, the residents of the home were shocked that someone broke in. But they were also incredibly confused when they realized the place was now impeccably spotless.
Let's find out how this bizarre chain of events unfolded.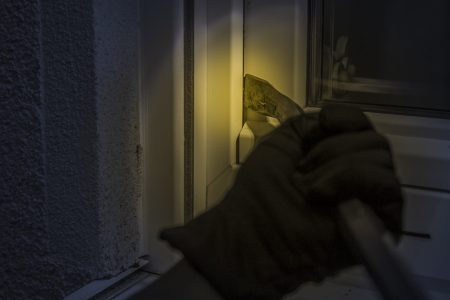 A Series of Unfortunate Events
As mentioned, Angelino cleans his friends' houses for a bit of extra cash. In June, he managed to get a new client through word-of-mouth – a friend's coworker hired him to clean his place.
The client gave Angelino an address in Cherry Hill and said he'd left a key under the doormat. However, by mistake, Angelino wrote down the wrong house number.
He arrived at the house he thought he was supposed to work on with his cleaning gear. He checked under the doormat, and what do you know – there was a key.
Really, you can't really blame the guy. Everything matched with the client's description, so naturally he assumed he was at the right place.
Angelino entered the townhome and dutifully got to work. He spent the next two and half hours cleaning the place, scrubbing the stove and mopping the floors.
After he was done, Angelino thought he'd spend a moment playing with the two cats that were running around. That's when he got a phone call from the original client.
The man on the phone asked if Angelino ever got around to cleaning his place, since it looked like no one had touched it.
"I said: 'I'm literally in your living room right now playing with your cats and waiting for you to walk in,'" Angelino recalled.
"He was like: 'Louis, I don't have any cats.'"
"In that moment, I froze. My heart dropped. I was just like: 'Where am I right now? What is going on?'"
Angelino friend came over and wrote a quick apology note to the home's real residents, before the two took off.
Coming Clean
Those real residents are Beth Motzel and her husband. Motzel said that she received a panicked phone call from her husband on the day when he got home.
It's easy to see why Motzel's husband might've been confused. The couple has been renovating their home, so they expected it to be a mess – but everything inside was suddenly squeaky clean.
"[He] called me in a panic and he said that someone was here and they cleaned the whole place," Motzel recalled.
Her husband also told her that the person had left them a strange note. It said that the mysterious cleaner had accidentally entered the wrong house, and included a name and phone number.
Motzel contacted Angelino's friend, who put her in touch with Angelino. The two exchanged text messages to clarify the situation.
"Hi, my name is Louis. … I am the guy that accidentally cleaned your apartment. I just wanted to say I'm so sorry!" Angelino texted Motzel.
She was understanding, though, and said she felt bad for him since she knew the place had been a total mess. Motzel even said she'd keep Angelino's number on file in case they ever needed a cleaner in the future.
Do I Smell a Business Opportunity?
The accidental break-in might just have turned into a business opportunity for Angelino. He shared his story on his TikTok account and it blew up.
He's now considering starting up an actual full-time cleaning business. Angelino's hoping that the viral video could help bring in new clients for him.
The secret cleaner man has also received a catchy nickname that would make for a perfect business name, too. The commenters on his video have dubbed him the Cleaning Fairy.
"That's 100% the best name for me. I mean, the Tooth Fairy leaves you money under your pillow after she takes your teeth away," said Angelino.
"Well, I break into your apartment and I clean [it]," he laughed.
Some of the comments wondered why Motzel didn't pay Angelino for his cleaning service. But the man himself said he'd feel wrong accepting money for the job.
"At the end of the day, I am okay with not getting paid for accidentally breaking into someone's apartment and cleaning it, because things could have been far worse.
"The cops could have been called, there could have been a lawsuit," he said.
Luckily, everybody involved were able to just laugh the whole thing off. And really, you couldn't really get much better publicity for a fledgling cleaning company.