Woodworker Paul Jackman modeled the new lamp after his own hairy leg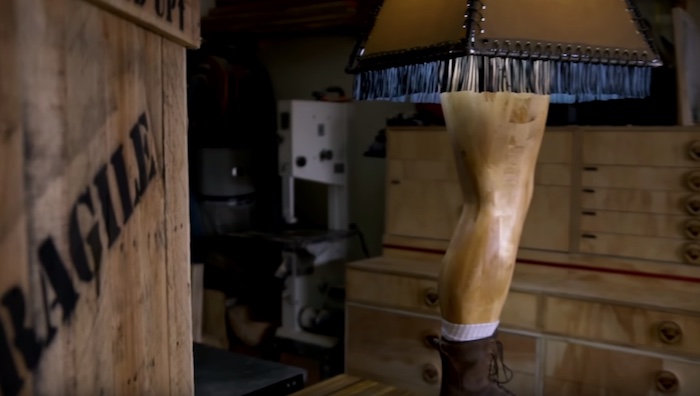 The leg lamp from A Christmas Story is almost as iconic as the movie. It's available for purchase if you're looking for a Christmas gift for the oddball on your list but woodworker Paul Jackman decided a "manly" version of the was long overdue.
Jackman recreated the leg lamp from A Christmas Story using his own hairy leg as the model. He even documented the design process on video and on his Instagram account.
Jackman explains part of the process on his YouTube channel.
"This leg is an exact full-scale model of my own leg. The leg and base are made from maple butcher block scraps from previous projects. The lamp shade is welded from scrap lengths of rebar and wrapped in pleather attached using paracord that looks like Carolina's boot laces. The boot is attached using a threaded brass lamp rod through the entire leg with a nut on both ends. There are also a couple of screws into the toe of the boot/foot."
Jackman captured every detail from the original lamp, right down to the wooden shipping crate straight from Italy. FRA-GEE-LAAY
Here's a video tutorial of the manly leg-making process from start to finish.
CHECK OUT OUR ARCHIVES FOR MORE ODD NEWS STORIES AND FOLLOW ODDEE ON FACEBOOK, TWITTER.