You could argue whether this is appropriate for a church or not, but it surely is one heartwarming gesture.
They say cats have nine lives, but eventually even that many lifelines will run out. Sometimes when cats age, they might retire to country estates. Other times, heartbroken owners will pay an enormous sums of money to clone their cat.
Most of the time, though, nature runs its course and even the most cherished of our feline friends pass away. On September 30, such an unfortunate event took place at the famous Southwark Cathedral in London, U.K.
On that date in time, Doorkins Magnificat, the beloved stray that had taken to live in the building, died of a stroke. She had resided at the cathedral for more than 10 years, and the both churchgoers and the general public had taken a real shine to the cat.
Following his passing, though, Doorkins got an honor not bestowed upon many cats. On October 28, the cathedral held a memorial service in her memory.
The service of thanksgiving to Doorkins was livestreamed globally. A recording of it is now available for viewing on YouTube.
"We host, in more normal times, memorial services for the great and the good, and funerals for our neighbors, our friends, and our family," said Andrew Nunn, the dean of Southwark Cathedral, as he began the memorial service.
"But I suspect we've never had a service for a cat," he added.
Suppose there's a first time for everything, even with church services.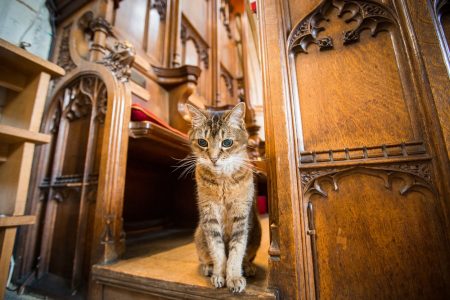 The Doorkins Story
Doorkins Magnificat first arrived at the Southwark Cathedral between Christmas and New Year's Eve in 2008. Church staff found her begging for food at the cathedral's southwest doors, according to a website dedicated to the cat, hosted by the church.
"She had been living wild until she saw a place of sanctuary at Southwark Cathedral, and she gradually began to trust those who fed and looked after her," the website explained.
After a few days of receiving regular breakfast, Doorkins decided that the cathedral was the place she wanted to live at. Her being a cat, none of the staff could put a word in edgewise.
"Given the name 'Doorkins Magnificat' by the vergers who served her on a daily basis, Doorkins was very much part of the Cathedral fabric," the church says.
Oftentimes she would avoid curious eyes and do her own catty things, but her presence was still felt in the church. She'd strut in front of the altar during service or nap on the dean's stall.
In winter, she liked cozying up on the church hall's radiators, or in the nativity scene next to Baby Jesus. You know, the normal cat stuff that any cat owner will recognize.
You'd imagine that a meddling cat wouldn't go down well with people, but you'd be wrong.
"A number of visitors came to the cathedral just to see her, and she has even had the honor to entertain HM Queen Elizabeth II," the church said.
Towards the end of her life, Doorkins lost her eyesight and the cathedral became too dangerous a place for a blind cat to live in. So, she went to stay at the home of one the vergers, where she stayed until the end.
A Cat Set in Stone
During her life, Doorkins received a lot of special attention. In 2017, the church published a picture book featuring Doorkins giving a tour of the cathedral among her daily activities.
The cathedral cat was also immortalized in a more unorthodox way. Her likeness has been carved into one of corbels decorating the cathedral.
What a corbel is a type of architectural bracket attached to a wall that's used to support the weight of the structure above it. In churches, corbels are usually carved to depict things like saints, angels, holy symbols… You know, church stuff.
But Southwark decided that in addition to these things, they wanted something more modern, something from the cathedral's recent history. So, when they commissioned four new corbels for the cathedral, one of them came to bear the face of Doorkins, with a fish in her mouth.
Outside the cathedral, Doorkins was also famous on social media.
"She was enormously popular and had a massive Twitter following," Dean Nunn told CNN.
Divisive Decision
The decision to hold a memorial service for a cat is a decidedly unusual one. Nunn, however, thinks it was the right thing to do.
"When she died the response was huge, and we knew we had to do something. There was no way in which we could just ignore the fact, and why would you? We loved her, and she gave a lot to our life," said Nunn.
"It felt entirely appropriate."
Not every church official agrees with him, though. For example, Bishop Philip of Burnley, from the Diocese of Blackburn, questioned on Twitter whether the whole thing was a joke.
"It's grossly insensitive to bereaved families and those ministering to them in the [northwest England] under the regional coronavirus restrictions," he said.
Considering that the pandemic has made it difficult to hold traditional funerals, you could say Bishop Philip may have a point. Nunn, however, stands behind his decision.
"There's such a lot of emotion around at the moment, and sometimes, something like [this] can just release it for people. It was heartwarming as well as emotional," he said.
Nunn adds that he's made his piece with the fact that Doorkins probably brought more people into his church that he ever will over his entire career.
"People came in and they wouldn't necessarily be churchgoers, but they'd come in to find the cat. I think that they found themselves very welcome. Ending up in a sacred space and spending time with a cat was good for people," he mused.
Saint Francis of Assisi once said we shouldn't exclude any of the creation's creatures from the shelter of compassion and pity. The Southwark Cathedral, at least, has clearly listened.