Collecting all those leeches must've... sucked.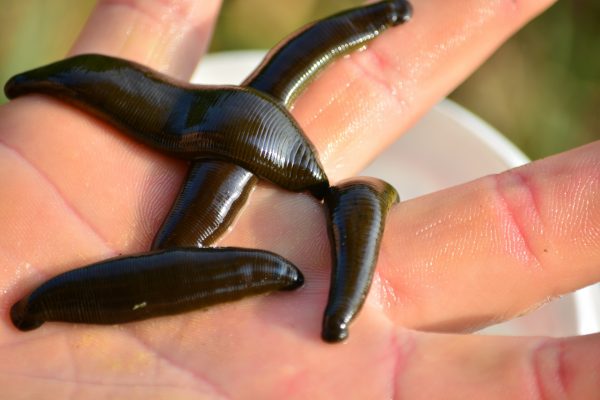 Carry-on bags and what they allow you to bring in them are under some pretty strict rules. For example, no liquid, or bug spray that is over 3.4 ounces (100ml), no sharp objects, no compressed gas, and nothing flammable. So how did about 4,700 leeches get pass airport security?
4,700 Leeches
Ippolit Bodounov tried to smuggle 4,788 leeches through a Canadian airport. They are worth roughly $8-20 US dollars, each. All the leeches, miraculously, survived the trip. According to ECCC (Environment and Climate Change Canada), Bodounov stored them in moistened cloth bags. A larger grocery-styled fabric bag held the cloth bags.
They somehow managed to get past the terminal security. (How do thousands of leeches look on an x-ray, anyway?) The Canada Border Service Agency (CBSA) noticed the leeches. They brought their sniffer-dogs on the routine inspection of the flight. CBSA notified ECCC of their discovery. An enforcement officer at the airport confiscated the leeches.
The Wild Animal and Plant Protection and The Regulation of International and Interprovincial Trade Act (WAPPRIITA) prohibit the import, export and interprovincial transportation of certain endangered species. This endangered species, however, was not one of those prohibited. They are classified as a protected endangered species under an international treaty called CITES (Convention on International Trade in Endangers Species).
Authorities sent 240 specimens from the 4,700 to the American Museum of Natural History in New York. A DNA sequence of their stomach contents show that they were caught in the wild. The museum was able to identify them as a threatened medicinal leech, Hirudo Verbana.
We'll Settle For An Even 15,000
In conclusion, according to a release, the leeches were one of the two species of leeches that are subjected to regulations. Boldounov pleaded guilty of violating the WAPPRIITA. The Ontario Court of Justice held a hearing on May 24th, 2019. The court put down a fine of 15,000 Canadian dollars or about 11,000 US dollars on Boldounov.