And they weren't happy with any of it.
Did you know that you can buy a styrofoam cake? Because you can.
Some people want the "look" of a cake, but not the actual cake. This can happen for weddings or other celebratory events.
When mom, Marsy Flores, ordered a cake from Walmart, she wanted the cake with frosting, a graduation theme, and moist, delicious cake. She ordered the cake for her daughter.
Lea Nava is graduating high school and her mom wants to celebrate her.  "This is my baby, and she was graduating, so it was very important to me," Flores said.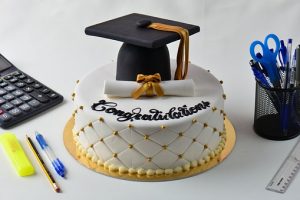 The problem happened when she went to Walmart. She wanted to pick up the cake but it was not there.
Walmart says that they lost the order. They said that they didn't have anything ready to give to her.
A store manager offered Flores to choose any cake of the ones that were ready to go. The bakers added  a cap-and-gown photo to the cake to personalize it.
Flores was happy with that and brought the cake to the graduation party. The next problem came when it was time to cut the cake.
The cake was styrofoam.
Nellie Flores, Marsy's sister said that she was "in complete shock" when she realized the cake wasn't actually a cake.
Nellie took to Facebook with her complaint, too. Marsy was offered a gift card, a free additional cake, and another gift card. The Facebook post said the offer "can't make up for the embarrassment and humiliation she went through with family and school friends there."