Presented by: Lending Tree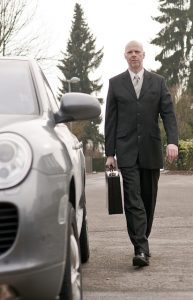 From moving equipment from worksite to worksite, or taking out clients for fancy, fruitful dinners, a vehicle can be a vital part of a business' success. No matter what kind of car it is, what purpose the vehicle is being used for, the need for reliable and dependable transportation is often near the top of the list for growing companies.
That being said, if you are the owner of a small business that is just getting started, chances are good that you simply do not have the capital necessary to purchase a vehicle with cash.
A lack of capital is an even bigger issue if the success of your business hinges on not just one vehicle, but a fleet of specialized vehicles. Luckily, there is a solution that is easily attainable in the form of a business auto loan.
So, what are business auto loans and how can you get one? Continue reading to find out.
Business auto loans – or commercial auto loans – are a popular type of financing that is used to purchase vehicles specifically for business purposes. A business auto loan provides business owners with the money they need to buy a vehicle from a dealership or private seller.
The primary advantage of commercial or business auto loans is that the business does not have to pay the full purchase price upfront in order to take possession of the vehicle. Instead, the lender offers the necessary funding and allows the owner to pay the total loan amount, plus interest and added fees, over a long period of time.
In many ways, business auto loans work very similar to personal auto loans. A loan of this kind is extremely beneficial to business owners as they won't be forced to pay tens of thousands of dollars up front in order to get the car that they need to successfully fun their business.
Businesses that need vehicles for any reason can get a business car loan. Whether it is for delivery trucks, commuter vehicles for employees, or vehicles to be used by salespeople, it is quite possible for businesses to get financing for one or multiple vehicles depending on their needs.
Now that you know the very basics of business auto loans, let's go over the requirements that you will need to offer in order to take one out.
While business car loan requirements do in fact vary slightly by lender, there are a certain number of documents that any potential borrower can expect to be provide. Both business and personal documentation is required to receive a business auto loan.
Items such as business licenses and articles of incorporation will be required for you to prove that you in fact own the business you are trying to take a loan out for. On top of that a federal Employer Identification Number or EIN will also be required in order to complete the application. If you are a sole proprietor without an employer identification number, you will have to provide your social security number instead.
The borrower the needs to prove that they can make the monthly payments on the loan by submitting documents such as tax documents, cash flow statements, and bank statements.
Business credit history will also be considered during the loan process. In the vast majority of loan applications, personal credit history and score will also be considered and evaluated.
It is important to keep in mind that there may very well be limitations on the financed vehicle if the business plans to save money by buying a used car. The borrower may be limited by factors such as age, mileage, and value when it comes to a using a business auto loan to purchase a pre-owned car.
If you have less-than-perfect credit history and are wondering how that might impact your ability to take out a business car loan, chances are good you already know the answer. Depending on your credit score the borrowing history of your business, you may be limited by the number of companies who are and are not willing to offer you financing. Additionally, chances that you face higher interest rates and fees are quite high if you or your business have poor credit score and history.
Where to get a business auto loan
There are a number of primary resources that you should consider if you are interested in taking out a business auto loan. While it is possible to go to an auto dealership and obtain a business car loan, there are other options that are probably more preferred. Here are some of the most common:
The small business administrations (SBA)
The SBA programs are incredibly competitive and often offer fantastic business rates and repayment terms. These loans can be harder to obtain that other options. While there is not a specific SBA commercial vehicle loan program, there are several loan programs that can be put towards a purchase of a commercial vehicle such as 7(a) program loans which offer loans up to $5 million or SBA Microloans for purchases less than $50,000.
Bank and credit unions
This is another common source of financing for business auto loans. Getting this type of loan from a bank or credit union is basically the same as getting a personal car loan from one of these established financial institutions.
When applying for a business car loan from a bank or credit union, both your personal credit history and the credit history of your business will be considered.
Alternative lenders
Alternative lenders should typically only be considered when more common lenders are not available due to credit related reasons. The reason why these alternative lenders – such as good credit online lenders , or peer to peer lenders – are available to people with poor credit history is because they tend to focus on factors such as length of business, or cash flow rather than credit score and borrowing history.
These loans should typically only be considered if other options are not available because they tend to come with higher interest rates and fees compared to previously mentioned lenders.
Conclusion
Hopefully this quick rundown of business auto loans has helped clear some things up for you. Chances are good that if you and your business are in need of a vehicle, you will be able to obtain it through a business auto loan.
Now, it's time for you to get your documents together and start figuring of what kind of car you need to make your business run!
Good luck!
Want to tell your strange story?
Tell us about it
and it could be featured on Oddee. You can remain fully anonymous.