Burger King has introduced "Real Meals," to celebrate "being yourself and feeling however you want to feel." These unhappy meals have many faces.
There are five different moods to choose from. You can choose from the Pissed Meal (mad), Blue Meal (sad), Salty Meal (bitter), YAAAS Meal (excited), and DGAF Meal (Don't give a f***). 
The #FeelYourWay boxes comes with a Whopper combo meal, including fries and a shake. You don't get a toy, which makes some of these even more so an unhappy meal.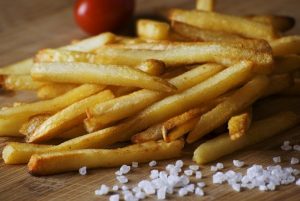 They are coming out in a few major cities including Seattle, New York, Los Angeles, Austin, and Miami.
Burger King isn't trying to just beat out McDonald's, but also is doing this as a collaboration with the organization Mental Health America to raise awareness for Mental Health Month, during May.
"While not everyone would think about pairing fast food and mental health, MHA believes in elevating the conversation in all communities in order to address mental illness Before Stage 4," said the President and CEO of MHA, Paul Gionfriddo.
Stage 4 is when a person is dealing with the highest severity of symptoms  of mental illness and are described as severe and life-threatening. The MHA has a Stage 4 Campaign that works to address mental health issues more preventative, and before they reach level 4. 
This is the commercial that came out with the new (unhappy) meals. The ad swaps "Have it your way" with "Feel your way." And Burger King isn't the only fast-food company that is launching into anxiety and depression, in an attempt to be relatable to millennials and Gen Z.
The announcement tweet even mentioned a popular meme – "not sure who needed to hear this today, but it's ok not to be happy all the time. All that matters is that you #FeelYourWay."
Some employees wish the franchise would take this into consideration with its own workers, saying that management is stressful and even brought them to tears. Well, there is a sad meal for that at least.