Imagine waking up to hear that while you were gone, the entire world went to hell.
Ever heard it said about someone who's metaphorically living under rock that it's a rock worth living under? Here's a great example of that saying taken to the extreme.
In a disastrous accident, a British teen was hit by a car in early 2020 and slipped into a coma. He has finally regained consciousness but with one significant non-medical side effect.
Joseph Flavill was blissfully unaware that the coronavirus pandemic had shut down the world. Really, the most surprising thing is he didn't just choose to return to the void after learning what a nightmare 2020 had been.
On March 1, 2020 – three weeks before the UK went into its first lockdown – Flavill was on his way to the Buckingham Palace to receive a Gold Duke of Edinburgh's Award. The prize is handed out to youths who successfully complete a series of self-improvement exercises.
So clearly, the 19-year-old UK air force cadet was a stand-out young man. Unfortunately, he never arrived at the award ceremony.
A car hit Flavill, and the teen suffered a massive traumatic brain injury (TBI). He fell into a coma that he wouldn't emerge from for the next 11 months.
And when we finally did, the world just wasn't the same anymore.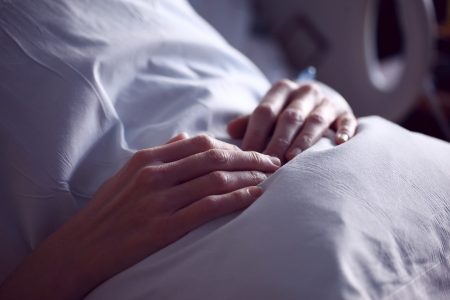 Making Progress
The most interesting – and horrendous, when you think about it – fact about Flavill's case is that he actually caught the disease he didn't even know existed. Twice.
He suffered his first coronavirus infection while he was still in the coma. He caught the 'Rona the second time just after he had started showing signs of life again.
What a way to wish a man "good morning."
Luckily, even a comatose Flavill was too tough for COVID to break. Despite his two corona cases, his mother said in a public update on his condition that Flavill has awoken and started his recovery process.
"He has been following commands, for example, touching his left and his right ear when asked to do so. He is able to move both of his legs, he is answering 'yes' and 'no' through blinking, and the most amazing step is that he has shown us his incredible sense of humor," Sharon Flavill said.
While his family can't go see him, Flavill has been able to talk to them through video calls. His aunt Sally Flavill-Smith told Daily Mail that the young man's face lights up in a smile whenever he sees his parents or friends on a screen.
Explaining the Unexplainable
But Flavill's path to recovery has been far from easy. When he first returned to the waking world, he was only staring at the ceiling.
"At first his eyes were open but he wasn't responding to anything, but over the last few weeks he's taken amazing steps," said Flavill-Smith.
"He's making really good progress. We've got to try to remain positive. He's definitely making improvement," she added.
But perhaps the biggest hurdle Flavill is facing is getting his injured head around the pandemic. His family said that they're not quite sure how to explain the events of the past year to him.
"We … don't know how much he understands as his accident was before the first lockdown and it's almost like he has slept through the whole pandemic," Flavill-Smith said.
"It's hard as we know he is more alert, but how do you explain the pandemic to someone who has been in a coma?"
While his family said that seeing Flavill's face stretch into a smile on camera is great, it can't replace physically being there for him. And that – of course – his family can't do.
"It's unbelievably hard for his mom not being able to see him," Flavill's aunt said.
His mother was able to bring Flavill home for his 19th birthday, but had to stay socially distanced. She also does his laundry and is able to see him when she brings it to the hospital.
Still, we're sure it's a cold comfort compared to actually being there for him.
'How Will He Ever Understand?'
Flavill had started physiotherapy since his awakening, but COVID brought an end to that as well. His aunt hopes that the young man will be able to start working on getting back up to his feet again.
When he eventually does start therapy again, at least Flavill has a strong foundation to build on. Before his accident, he was an avid sportsman.
Flavill played hockey and cricket, surfed, skied, you name it. He had also just finished his A Level college qualification exams and was hoping to take a year off to travel the world.
Of course, those plans would've been ruined even without his accident. Still, we're certain both Flavill and his family would've preferred the tedium of being stuck at home to what he was forced to go through.
There is light at the end of the tunnel, but Flavill-Smith says there are still long ways to go. The teen is still "very ill," not to mention the fact that strictly medically speaking, he's still in a coma.
"I don't know how Joseph will ever understand our stories of this lockdown," Flavill-Smith said.