But the police come to his aid, and help him out.
What do you do when a black bear locks himself inside of a mudroom? Well, you let him out, or call someone who will help you.
This happened in Missoula, Montana, in a house early Friday morning. And this bear cub was not happy when he realized he had locked himself in. Poor black bear.
The 3-year-old bear literally ripped the place apart when he realized he was trapped. After that, he was tired and took a nap in the closet.
He was later removed around 5:45 a.m. The black bear was reportedly "not impressed" when the deputies knocked on the window to get his attention.
"He slowly stretched, yawned and, unamused, looked toward the door. Eventually, deputies were able to unlock the door in hopes he would hop down and leave," the sheriff's office stated. "However, their attempts were only met with more big bear yawns."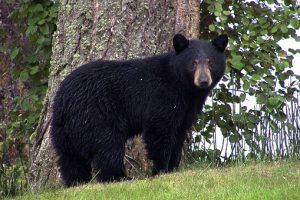 The bear was tranquilized by officials from the Montana Department of Fish, Wildlife and Parks. He was then relocated to the Mission Mountains.
Jamie Jonkel is the department's wildlife management specialist. He decided not to call it "a full-fledged break in" by the black bear.
"The door had been ajar," Jonkel said. "He must have tested it and stepped inside."
The homeowners said told the police they were "glad he was removed in good health, but won't soon forget when this intruder came looking for the bear necessities!"
"This is another good reason to lock up, as we also have unconfirmed reports that he tried two other closets before he decided this one was juuuuuust right (kidding)!" the sheriff's office posted on Facebook. "But seriously, lock up!"
There was once a black bear in a farm field next to me,  but there was never a black bear in my house. This is for sure a reminder to lock up!
Want to tell your strange story?
Tell us about it
and it could be featured on Oddee. You can remain fully anonymous.