Because they are anti-sex toilets and if you use them for sex, you will get sprayed with water jets and an alarm will sound. 
The Welsh town of Porthcawl has new loos, aka toilets, that are designed to prevent any kind of anti-social behavior like vandalism or drug taking.
The city on Wales' southern coast plans to replace its Griffing park toilets with the newer and smarter models. 
The cost to Porthcawl Town Council is £170,000 (about $200,000).
One step further is the function that determines how many people are on the toilet, by weight. The toilets ensure that only one person is using eaach cubicle at a time.
Any violent movements set off a water jet and soak the users, along with sounding off an alarm, and automatically opening the doors of the stall. The water jets are also used to prevent smoking and drug-taking within the stalls.
And the walls and floors are graffiti resistant. The planning documents for the facility say that rough sleepers will have a hard time using the space for sleeping because of the limit of how long they can be in the cubicle for.
There is also a time lock that would open and shut the toilets every monring and evening. Town council member Mike Clarke said, "Rebuilding the public toilets is an important element of Porthcawl Town Council's ambition to ensure that Porthcawl is a great place to live, work and to visit."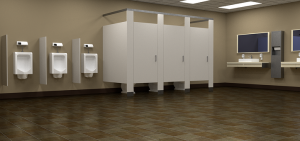 The toilets have some haters though with people commenting that the toilets are cruel and that they could "humiliate" users. "Weight sensitive floors to detect more than 1 user? What baseline weight are they using? I'm easily the weight of 2 teenagers! And what about people who need assistance? I have to go in with my kids," someone commented on Twitter.
Someone else wrote, "This is absolutely terrifying. I'm a disabled person who falls a lot and occasionally needs assistance. Am I going to have to need to start looking up whether I'll be able to use public conveniences without violent and humiliating consequence, because of moral panic?"
The current toilets will close for start of the demolition in October for the new high-tech facilities to be constructed. Seems whether the people like them or not, they are on their way. 
Want to tell your strange story?
Tell us about it
and it could be featured on Oddee. You can remain fully anonymous.