And it's not funny anymore.
Pizza deliveries for people who don't know it, is an oldie but a goodie when it comes to pranks. But what if you were pranked, for nine years, and constantly sent pizza that you didn't order or want?
"It started nine years ago," Van Landeghem said. "Suddenly, a pizza delivery man handed me a whole load of pizzas. But I hadn't ordered anything."
Sometimes pizzas, sometimes kabobs, no matter what was brought, the orders just kept on coming. He assumed it was just mixups, but after a while realized it had to have been on purpose and even maliciously so.
"I cannot sleep anymore. I start shaking every time I hear a scooter on the street. I dread that someone will come to drop off hot pizzas yet another time," he was quoted as saying. "It can be on a weekday or during weekends, and at any time of day. [The orders come from] delivery services in Turnhout, but also from the surrounding area. I have even had orders delivered to me at 2:00 a.m."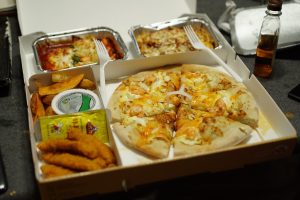 The best of this bad situation is that Van Landeghem doesn't owe anything out of pocket for the deliveries although he does pay in headaches and sleep. The restaurants faces the repercussions however.
"I have always refused the deliveries, so I have never paid for anything," he stated. But at one point, in January of last year, ten different deliveries reportedly showed up at his door, one for 14 pizzas. "It costs them money and they have to throw the food away. On the day that ten deliveries showed up, I did the math: it cost [$510]."
The weird details don't stop there. 
"A friend of mine who lives in Herenthout [about 17 miles away] is going through exactly the same thing as I am. She has been receiving pizza she has not ordered for nine years, too," he continued, suggesting the prankster is likely a mutual acquaintance. "Sometimes we both get them on the same day. When that happens, we warn each other to expect a delivery."
The whole pizza deliveries situation(s) have been reported to the police, but no one knows who's doing it. He finishes with, "I cannot take it anymore. When I find out whoever has been bothering me for the past nine years, it will not be their best day." 
So no pizza party as a celebration?