She only wishes they had known the dangers, too.
People die everyday of freak accidents or things that aren't meant to kill them. This story about fractal burning is no different. 
Matt Schmidt died after starting a new woodworking hobby known as fractal burning. Matt was a labor foreman with JP Cullen.
He had recently started a patio project and with the help of coworkers, he'd recently finished it. A sealer was applied last weekend.
Matt became interested in fractal burning about a month before he died. Also known as Lichtenberg burning, this process uses electricity to burn patterns into wood. The couple had watched videos together and Matt was into it. 
"We didn't know it was dangerous," Caitlin said. "There were no warnings with the videos. If Matt would have known, he would have never done it."
Caitlin posted a video on her Facebook page warning of the risks of fractal burning. The video received over 23,000 views and 300 shares, along with commenters reaching out to her directly to thank her. Many other people were also unaware of the risks.
"I will share this message for the rest of my life," Caitlin wrote on Facebook.
"He was involved in everything," Caitlin said. "He went to every practice, school parties; he was a busy, busy guy. He had projects around here. They were nonstop, and he was always involved with the kids. He would make signs for everybody; he had a lot of goofy sayings," she said.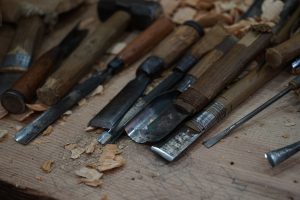 The more Matt did fractal burning, the more he liked it. He spent months watching videos including many posted by a friend who was also experimenting with the burning technique. 
Matt obtained a fractal burning license, with help from a friend, in April. According to Matt, his "machine" used jumper cables to transmit high-voltage electrical currents through wet wood. Intricate patterns were a result of this type of scarring of wood.
"Every single piece is unique, and you don't know what it will turn out like," she said. Working with electricity, "we knew he could get a shock, but we had no idea it could kill you."
"He was still figuring it out," she said of the machine. "He hadn't made a piece yet. I called the medical examiner's office one week later, and they told me he had burn marks on his hands. The electricity had just gone through his upper body. It went into one hand and out through a finger on the other.
"He was terminal before impact, they said. He was gone before his body hit the floor," Caitlin said.