"I thought that was a real baby," exclaimed one stunned woman.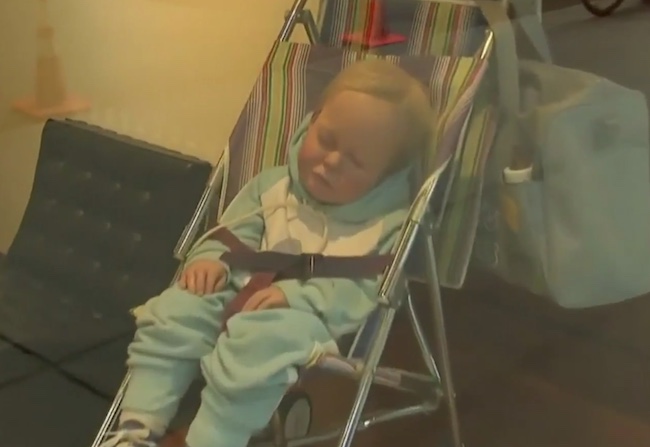 A lifelike baby sculpture in a New York City store window is not only creating a stir among passerby but it's also turning into a pseudo-experiment studying human reaction to sympathy.
A Park Avenue store is the temporary home to "Baby in Carriage, 1983". Created by sculptor and artist Duane Hanson, and modeled after his own son, the art piece depicts a young child sleeping in a stroller wearing a light blue sweatshirt and matching sweatpants. His shirt reads "He that is without sin among you, let him first cast the first stone," from the Gospel of John 8:7.
According to the director of American art at Heritage Auctions in Manhattan, "Baby in Carriage, 1983" is valued at about $80,000 to $120,000, but its detailed work and impressive price tag mean nothing to people passing by on the street. Pedestrians are under the assumption that a child is in peril.
Window-shoppers are frantically alerting auction house staff that "a child has been forgotten in the display." So instead of removing the human-like sculptor, the auction house installed a camera to record people's reaction.
"It's the greatest. If you could watch our footage of this baby in the window, it would crack you up because truly all day, people, women, children, mothers, grandfathers, cops will stop and look at it and wonder truly for a second, or more than a second, is that really a baby?", Director of American art at Heritage Auctions, Aviva Lehmann, told Reuters, adding that this "is exactly what Hanson wanted you to think."
Hanson's work is all fascinating and mostly mimics the human form. The Minnesota native is a "hyper-realist" artist who "captures middle America" in his pieces.
If you have the money, and space in your front window at home, "Baby in Carriage, 1983" will hit the auction block on November 30.
CHECK OUT OUR ARCHIVES FOR MORE ODD NEWS STORIES AND FOLLOW ODDEE ON FACEBOOK, TWITTER.