The online gambling industry is estimated to be worth around 70 billion US dollars. Every day, millions of internet users from all over the world log in to online casinos to play casino games such as poker, slots, roulette, and others.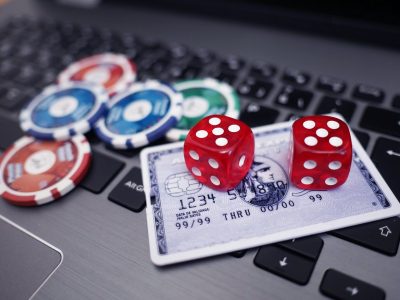 A question that many people have is "are online casinos safe"? The answer to this is not a straightforward one. Generally speaking, using online casinos is perfectly safe, but there are a few things to look out for and ways to make sure that you use online casinos safely. In this guide we will explore how you can do this.
Check the Licensing of a Site
Unfortunately, there are some online casinos that are not reputable, and are even set up to scam and steal money from users. One way that you can avoid these sites is by checking the licensing of a site before you use it. If a site is licensed with a reputable organization, it is much more likely to be safe. Reading terms and conditions and privacy policies is a good way to find out about a site's legal credentials and data protection policies.
Cybersecurity
Cybersecurity is extremely important when it comes to online casino sites. When you are signing up for a site, you want to be sure that your personal data and bank details are going to be safe. Make sure to only use sites that provide information on their cybersecurity programs and processes and that these programs and processes are robust and up to date. Sites that use SSL or TLS encryption are usually safer than those that do not.
Research Your Own Local Laws
When it comes to legislation, it may not be just the licensing of a specific online casino that you want to research. You will need to make sure that the laws of your own jurisdiction permit you to gamble at online casinos, otherwise you may risk legal trouble.
Software
The software that enables casino games to run is also worth consideration. Software companies such as Playtech and Microgaming are commonly used by online casinos and are audited by third parties such as eCOGRA and TST Labs. Sites that are verified by these parties are more likely to be safe and fair when it comes to the software.
Payment Methods
Online casinos that use trusted and verified payment methods such as Visa, MasterCard, PayPal, Skrill, Neteller, and other reputable names are almost certainly safer than casinos that use lesser-known methods of payment.
User Reviews
If you are in doubt about whether a site is safe or not, checking out what other users have to say about it can be helpful. Sites like Online Casinos display rankings of safe and reliable sites.
Customer Support
Casinos that do not offer any kind of customer support are best avoided, as a trustworthy customer support portal is a vital part of a reputable site.
Use Sites Safely
If you follow these guidelines, online casinos are almost certain to be perfectly safe. However, you still need to make sure that your usage of these sites is safe! This means using only secure internet connections, abiding by the terms and conditions, and not betting more money than you can afford to lose!