The sport of horse racing always has an air of grandeur and a sense of order. It's a sport that's been enjoyed for multiple centuries now and has bridged generations thanks to the sheer unpredictability of every race. Whether it's fences and hurdles in a National Hunt race or heavy going in a flat sprint race, there are so many variables that make horse racing such an exciting spectacle.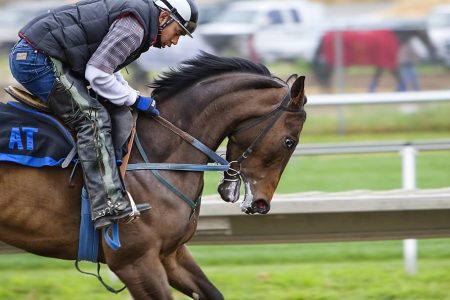 Time and again, the world of horse racing throws up some fascinating stories and snippets that turn the heads of even non-racing fans. From racing miracles to tweed suits, there's a lot to cover that will raise your eyebrows and cripple you with laughter.
Here are some of our favorites.
The so-called "fraud" of the 1844 Epsom Derby
The historic Epsom Derby dates back to the late 18th century, when it was established in 1780 as a race exclusively for three-year-old thoroughbred colts and fillies. It remains one of the five "Classics" in British horse racing. So, there were shockwaves through the industry in 1844 when trainer Abraham Levi committed what was later described by the solicitor-general as a "gross and scandalous fraud".
The horse that crossed the finish line first in the 1844 Epsom Derby was purported to be three-year-old colt Running Rein. However, post-race investigations discovered that trainer Levi had swapped out Running Rein at the last minute in favor of four-year-old Maccabeus. Levi even went to the trouble of recruiting a five-year-old replacement for the real Maccabeus horse while he was masquerading as Running Rein. The whole charade brought the Epsom Derby into disrepute and left a stain on its reputation for some time.
The 1908 Grand National winner that had retired from racing three years beforehand
Rubio was not only the first Grand National winner to be bred in North America, there was a lot more to this horse's story than meets the eye. Having been a top prospect as a colt, injury meant that Rubio was forced out of racing and sent to the Prospect Arms Hotel in Towcester to recuperate. Rubio was used here to pull an omnibus in a harness, taking hotel guests to and from the nearby train station.
After three years working in Towcester, it was decided to bring Rubio back into training under the watchful eye of trainer Fred Withington. After some successful appearances at Kempton and Towcester – the scene of his mini retirement – he was duly entered into the 1908 Grand National. Despite not even being the prime candidate from his own stable, Rubio upset the odds to win, eventually finishing first ahead of stable mate Mattie MacGregor in second.
Tipperary Tim – the 1928 Grand National champion by default
There was nothing extraordinary about the 1928 Grand National in the build-up to the 87th renewal of the world-famous National Hunt race, but it's still one which lingers long in the memory of jump racing fans today. It wasn't just because the winner was a 100/1 long-shot either.
Irish-trained Tipperary Tim travelled to Aintree with very little expectation of returning a National champion. However, few could have anticipated what was to follow at the start of the 42-horse race. Tipperary Tim was so unfancied that he was ridden by an amateur jockey by the name of William Dutton, who worked as an assistant solicitor in Chester by day. Yet following an extraordinary turn of events which saw all other 41 horses eventually fall at fences, Tipperary Tim was the last horse standing to cross the finish line alone in first place. Admittedly the racing conditions were tough, with mist and very heavy ground following weeks of prolonged rain, but that was nothing Tipperary Tim and William Dutton couldn't handle!
Morestead's penchant for tweed at the 2016 Cheltenham Festival
Hold your horses. If you're looking for the world's most dapper thoroughbred race horse, we might just have found him. At the 2016 Cheltenham Festival, ten-year-old Morestead was snapped wearing the world's first equine tweed suit, tie and matching cap. The outfit, designed by Emma Sandham-King, was described by her as one of the "biggest challenges" in her fashion career thus far.
Ms. Sandham-King said that while many of her fashion models have been known to be "real divas" in the past, Morestead acted like the old statesman that he was, being a "pleasure to work with". Champion jockey AP McCoy was photographed aboard Morestead with the press. McCoy, who retired in 2015, twice won the premier race at the Cheltenham Festival, the Gold Cup. He will no doubt have one eye on the entrants for this year's Gold Cup, with Al Boum Photo the ante-post favorite to win a hat-trick of successive Gold Cups.
When Calder Racecourse entered the "twilight zone"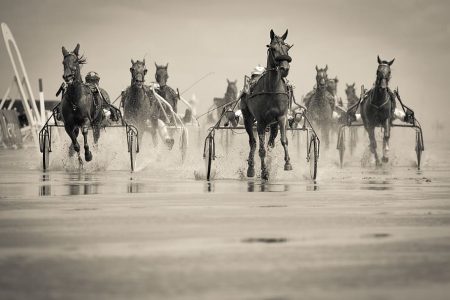 Just when you thought you knew what a day at the races was like, Calder Racecourse in South Florida tried their best to turn it on its head by staging an "Extreme Day at the Races" in 2006. The bizarre race card included two races which would be run at the same time, with one running clockwise and the other anti-clockwise around the Calder racetrack. It was the first time in the racecourse's history that a race was run in the clockwise (European-style) direction.
This wasn't just a race day for the horses, it was a bit of fun for the jockeys too. The racetrack also staged a 70-yard jockey sprint race, separating the speedsters from the slow coaches.
Why Les Boots is considered the worst jockey in history
It would be wrong not to mention Australian jockey Les Boots when it comes to bizarre tales of horse racing. Boots was dubbed the world's worst jockey due to his propensity to fall off his rides. In fact, in 39 races, Boots somehow managed to fall 40, yes 40, times. He fell off one horse at Cheltenham twice – once going "out the straight" and again at the "half-mile" point. Boots even fell out of the ambulance he was rushed to hospital in following his second fall, after sustaining a suspected broken leg – you couldn't make it up!
Fortunately, Boots maintained a good sense of humor during and after his horse racing career, admitting that the Adelaide Hospital "always had a bed ready" for him when they knew he was racing.