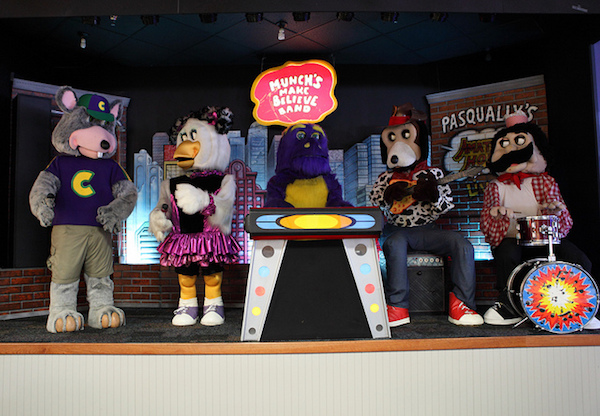 In an age where technological advances take place the blink of an eye, these old robots are finally being put to rest. Yes, Chuck E. Cheese announced plans to retire its most recent iteration of their animatronic musical group, Munch's Make Believe Band. It is being phased out to appeal to the more sophisticated cultural palates of the modern kid, and the band's stage will be replaced with a dance floor and live-action characters in costumes that will boogie with customers.
Adults that grew up with this base-level form of entertainment are lamenting its loss on social media. Musician Father John Misty is so upset about the changes afoot that he posted a tribute to the robot musicians he says shaped his young mind and made him who he is today:
I typically don't eulogize over social media, but the shock and sadness I feel over losing this artist compelled me to humbly offer a few words in remembrance…Having been a professional musician for a few years now, I can appreciate firsthand not only the strain of trying to sustain a flow of creativity for so long but the rigorous, pretty unexotic feat of physical endurance just getting through a few hundred shows a year, plus all the travel, is. When I consider that this motherf**ker was playing up to 5 sets a night all over the country simultaneously i am reminded that, yes, it can be done, and that just by getting on that stage every night and leaving everything up there, I am part of lineage, of a collective imagination that spans the generations. How he maintained that smile on his face, playing so consistently and with such little flash (even though I'm sure some nights he just wanted to stretch out and make it all about himself) is beyond me. Don't forget: this man's middle name was literally 'Entertainment.'
None of this, however, has anything to do with why I fell in love with this man's playing. Chuck was an interpreter. He didn't write much, outside of his seminal 'Happy Birthday' but neither did Frank f**king Sinatra. Like Sinatra, Chuck wasn't 'the best.' But he had a style, and style cannot be taught; something we tend to forget in this era of manufactured pop stars. Max Martin would've had nothing to do with Cheese. He was a little thick around the (sic) waste, and certainly refused to change with protean fads in the culture.
He was never political, but he didn't need to be. Neoliberalism had just left the think tanks and had been deployed in service of combatting the rampant stagflation that had bedeviled the economy of the 70's. Chuck embodied the American ideal of the time while presaging the alternative currencies that we'd see 30 years later.
This man introduced me to music. Though the world may have moved on, the music remains.
Goodbye Chuck E.
While Chuck E. himself isn't going anywhere (he'll still be part of the chain's brand, just in live-action dancing form), the band that he once was once part of is. However, we don't believe that they'll be gone for too long. If they're anything like their former show business competitors, Rock-afire Explosion, they'll find new life on the web.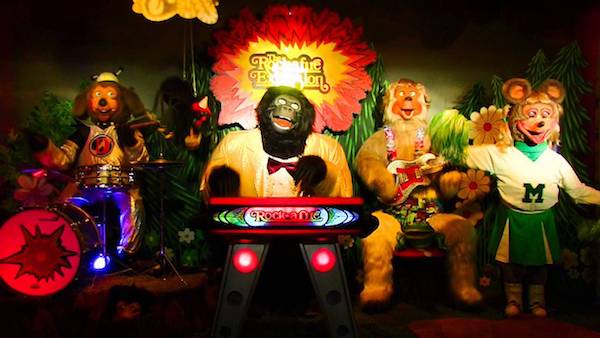 Rock-afire Explosion was, in the early 80s, an integral of the part of the ShowBiz Pizza chain and was the brainchild of wunderkind inventor Aaron Fechter, who created the larger than life (they took up three stages) band at his Creative Engineering compound in Orlando, Florida. At its peak, Showbiz had hundreds of locations, and Fechter's 325 employees were turning out animatronic bands around the clock.
But the bottom dropped out in 1984, and the flailing pizza chain was swallowed up into Chuck E. Cheese, who told Fechter to stop producing Rock-afire creations and turn over the rights to them. He refused, and Rock-afire left the stage for good—well, they were dismantled and what wasn't destroyed was turned into Munch's Make Believe Band.
But in the 2000s, Rock-afire came out of retirement by way of a documentary, Rock-afire Explosion, and fervent fans who bought remnants of the group rebuilt them and posted videos of them playing recent pop hits to YouTube. Those went viral and spawned a video game, Five Nights at Freddy's, which became a hit after gamers like Pewdiepie plugged it. A Five Nights at Freddy's movie is now in the works, and Rock-afire still performs for kids at Creative Engineering, when not make an appearance at the occasional state fair, movie  or backing the likes of Cee-Lo Green in Vegas. (Yes, that happened—take a look below!)
So, what of Munch's Make Believe Band? Will they get a second chance at stardom? If they somehow end up on eBay or Craigslist—as many animatronic bands do—they just might find a wealthy benefactor to bring them back to life.
Father John Misty, we're talking to you.
FOLLOW ODDEE ON FACEBOOK AND TWITTER.