And her Dad isn't having it.
It happened in Lindenwold, New Jersey. A 22-month-old girl was found dead at a commuter rail station lot in a minivan. It happened last Friday.
"Once I got the call, I thought it was a joke," Nasir Lawrence said. "I pretty much broken down and lost my mind."
Lawrence's almost 2 year old daughter was in the care of her aunt and uncle at the time. But it wasn't very good care, and now that's obvious.
 Milliani Robertson-Lawrence was in the locked minivan when she was found dead at the scene. Pennsylvania-New Jersey rapid-transit system officials said that she was found in the lot in Lindenwold and could not be resuscitated by emergency responders. 
The temperatures were high that day,  and we all know what happens to cars on hot days, they get even hotter. Temperatures were in the high 80s at this location when the little girl was found.
Investigations were performed and it is estimated that  Milliani Robertson-Lawrence may have been left inside the van for more the eight hours.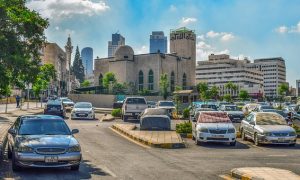 "What did you do for eight hours that you forgot a 2-year-old? Exactly what were you doing at the PATCO station?" Lawrence asked. "You killed my daughter. You took her from me."
Lawrence had been serving jail time for the past 18 months. He had been trying to regain custody when he was told the news.
"I've done everything I was told to do," Lawrence said. "Parenting classes. Psych evals. Anger management counseling. I've done drug tests and I'm still getting denied."
Lindenwold police, Delaware River Port Authority officials, and Camden County prosecutors said that no charges were immediately filled and that the investigation continues. They ask that anyone with information call the investigators. 
The PATCO Hi-Speedline has daily service between Lindenwold in South Jersey and Center City Philadelphia and a staggering 10.5 million riders annually.
"I will be following this all the way to the end," Lawrence said. "I am not going to stop until I get justice for my daughter."
This odd news is much more common than we wish it was. Unfortunately, you see this kind of negligence a lot. RIP Milliani Robertson-Lawrence.
Want to tell your strange story?
Tell us about it
and it could be featured on Oddee. You can remain fully anonymous.