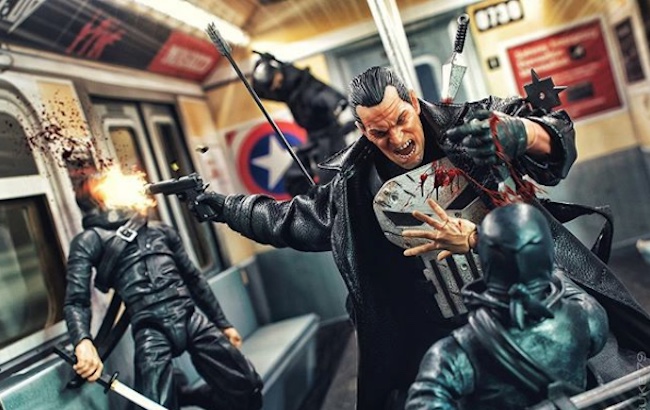 A kid can bash two plastic action figures against one another only so many times before the act turns incredibly boring so little ones usually spend more time posing toys than playing with them.
So what happens when those boys and girls grow up? They turn all those hours of world-building with toys into awesome Instagram accounts dedicated to action figure posing. But the work is much more detailed and involves lighting, scene construction and occasionally a little photo manipulation to bring the plastic men and women to life.
There are thousands of Instagrams dedicated to the art of figure and toy posing and it would impossible to list them all so here are just some of our favorite accounts.
The Action Figure Photos account is dedicated to toys of the 60s and 90s. GI Joes are heavily featured but He-Man, Marvel characters, and DC comics legends often make appearances on the action figure-obsessed account.
Simon is an artist in the UK, a Batman fan, and an action figure collector. His Instagram account is dedicated to toys from Batman the Animated Series.
3. PrinceDraco
Prince Draco mixes in "action shots" to his action figure poses to really make the toys come to life.
Chuck is photographer and action figure fan. His photo specialties include retouch and photomanipulation. Those come in handy when turning lifeless toys into works of art.
Account creator rsuriyop is an amateur toy photography but his work is anything but rookie-like.
6.ToyThug
Toy Thug is a dedicated platform for pop culture and toy collecting movement. ToyThug is a curator of some of the best action figure photos and accounts on Instagram.
Felton is a photographer, filmmaker and media artist who brings his figures to life with realistic shots and added effects.
By The Bulb recreates scenes and situations involving toys that often look far too real. Not that that's a bad thing.
Dedicated to all things LEGO, this account brings mini-figs to life better than most of the animated films.
Did we miss an account that you absolutely love? Do you run an account that we have to see? Drop us a line here and let us know.
CHECK OUT OUR ARCHIVES FOR MORE ODD NEWS STORIES AND FOLLOW ODDEE ON FACEBOOK, TWITTER.