This is the worst reboot of 'Old Yeller' I've ever heard of.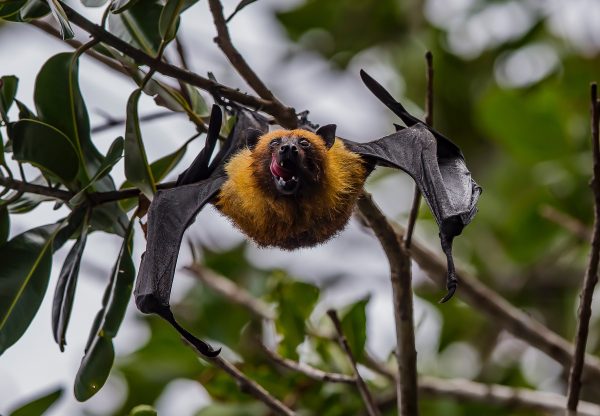 84 year old New Hampshire man, Roy Syvertson, sat down  in his living room to use his iPad, as he usual does. On the 23rd, Syvertson said that nothing seemed out of the ordinary, until an hour later, when he went to close his iPad. "I always do the same thing," he said. "I just open it up like that and flip it around, and then usually put it between my legs." He told WMUR that he knew something was wrong. 
He felt something on his finger.
"It felt like a little bee sting. I looked, and the bat was coming out of here (in between the back of the iPad and the case)." Syvertson squished the bat in his case and let him outside. 
The next day, Syvertson, went to check on the bat. He noticed that it was still lying where he left it, but he assumed that it was okay. A few hours later, he went to check on the bat and it had died, that's when Syvertson began to worry. "I knew I might have a problem," Syvertson admitted to WMUR 9.
He contacted the New Hampshire Department of Fish and Game (NHDFG) about the potential of rabies. "He said, 'I would like you to go to the hospital right away. Waste no time." While Syvertson was undergoing his treatment, the NHDFG determined that the bat was in fact rabid. 
"He Probably Knew My Password." 
As Syverston looks back onto the incident, he is still unsure of how the bat got into his home. "It will remain a mystery, and my joke of, 'He probably knew my password' won't last forever. That won't be funny for a long time." 
Why Rabies Is A Big Deal
Rabies is a deadly virus that is spread to humans by infected animal saliva. It impacts 5 billion people annually and claims as many as 70,000 human lives worldwide each year, according to Kansas State University's Veterinary Diagnostic Laboratory.
Those who believe they have rabies, or have been exposed, seek medical advice immediately. They should also wash their wounds aggressively for several minutes with soap and hot water. Then report the incident.
Want to tell your strange story?
Tell us about it
and it could be featured on Oddee. You can remain fully anonymous.