Finally! An Esports League For 'FarmersOnlyDotCom' Members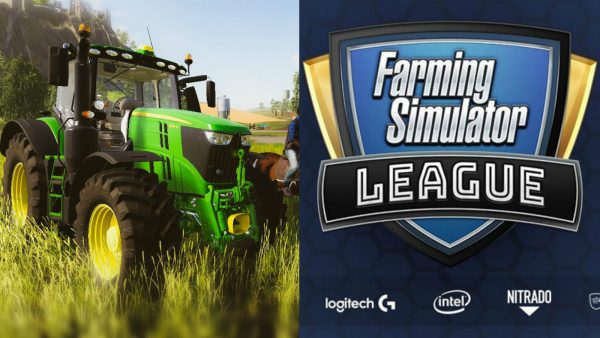 Esports has been a growing industry for years. Esports have been largely limited to FPS (first-person shooters like Call of Duty and Overwatch). Or MOBAs (multiplayer online battle areas like League of Legends and Heroes of the Storm). But they're getting a new gaming style in the near future. Competitive simulated farming. Instead of headshots and strategy plays, players go steel-toed-boot-to-steel-toed-boot in plowing fields, harvesting crops, bailing hay and stacking bails. GIANTS Software's surprising announcement of their €250,000 esports league means a new game for Esports. Farming Simulator joins video game titans in the realm of competitive gaming.
Buying league team merch, joining thousands of others watching streaming tournaments, and trash talking in forums and in-game chat, fans have made Esports a lucrative business. It's no surprise that every video game company wants a piece of the pie. But what is a surprise is the fact that simulated farming might actually be that big of a draw.
Last year there were four small-prize tournaments held overseas in Switzerland, Germany, and Poland. The biggest of which was Herofest in Bern that only offered a prize pool of €2,890. When GIANTS announced their league with a prize of €100,000 a lot of fans had the same response. The internet let out collectively confused "Huh?"
The games will in Farming Simulator 19 and will branch out from bale stacking that previous tournaments focused on.
"Not only will the new league be held in the brand new Farming Simulator 19, but it will also move from bale stacking to a competitive 3 vs 3 mode where teams challenge each other to determine who is the best on the field. The game will, of course, stand true to its roots in farming and combine real field work like harvesting with fun and challenging game elements. GIANTS Software will reveal more about the new game mode in the near future." Giants Software said in their press release.
"Major changes lie ahead when the Farming Simulator Championship becomes the Farming Simulator League, a full-fledged eSports league with 10 tournaments across Europe. At the end of the season, the best teams will compete for the title of the Farming Simulator Champion and 100.000€ in prizes. Every single tournament will not only grant circuit points for the best teams but also wield big prizes, bringing the total prize pool for season two up to a total of 250.000€."
It's clear that GIANTS Software isn't messing around.
But whether or not their league can generate the merchandise and ad revenue to sustain it remains to be seen. If Farming Simulator has the fan base then we could be seeing more simulation style leagues popping up. American Truck Simulator, maybe?
Pop over to Farming Simulator's announcement for the full details.
What do you think? Would you watch the farming simulation tournament? Would you spend money on it?
Want to tell your strange story?
Tell us about it
and it could be featured on Oddee. You can remain fully anonymous.