I would probably need emotional support after being that close to a gator!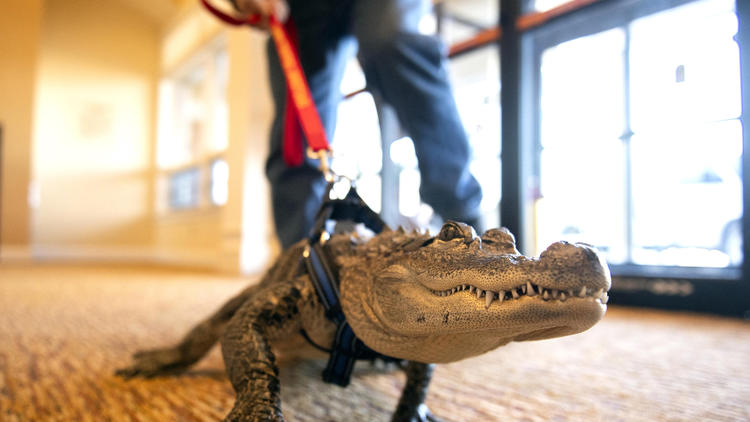 Emotional support animals have garnered some criticism over the years, mostly to the misuse by untrained animals. But occasionally one comes along that raises eyebrows, not because of it's training or the question of the validity of need, but of the species of animal.
Joie Henney, hoise of Joie Henney's Outdoors, a hunting and fishing show that ran from 1989 until 2000 on ESPN Outdoors, Fox and other outlets, brought a four and a half foot emotional support alligator to help out some folk.
That's right. An emotional support alligator.
"He's just like a dog", Henney says. "He wants to be loved and petted."
Henney took Wally the alligator to the Glatfelter Community Center in the assisted-living development north of York, Pennsylvania. Henney says Wally has never bitten anyone and is even afraid of cats.
"I'm not scared of snakes," one woman said as she cautiously approached Wally to have her picture taken with him, "but that thing has a lot of teeth."
Wally was rescued about 3 years ago by Henney after a friend who rescues Florida gators called him up. The congregation wally was apart of were to be destroyed to make room for development.
Henney says Wally is still a wild animal and you have to be cautious around him. But he became part of Henney's household.
Wally was young, 14 months old and came in at about a foot and a half long. When he first arrived at Henney's home, he was afraid of everything. It took some time, a few months, but Wally had begun to become domesticated. Or as domesticated as a wild gator can get.
"He was a like a little puppy dog," Henney said. "He would follow us around the house."
Henney owns another alligator named Scrappy that lives in a 300-gallon pond Henney built in his living room. They eat a diet of frozen rats and chicken as they watch tv, lay down on the couch or bed.
"They aren't for everyone," Henney said. "But what can I say. I'm not normal."
Boy, is that an understatement. Some emotional support animals have been reported in a wide variety, ranging from small animals like guinea pigs, ferrets, and rabbits, to farm animals like chicken, pigs or sheep, to truly abnormal like spiders, snakes, and kangaroos as well as a range of different species of bird. But none are quite as 'out there' as Wally here.
Want to tell your strange story?
Tell us about it
and it could be featured on Oddee. You can remain fully anonymous.