No, we're not slightly envious of a dog, why do you ask?
Filthy rich millionaires selling their ludicrously expensive mansions to each other isn't really newsworthy. Except in this case, because the millionaire isn't a human being.
Meet Gunther VI. The German shepherd with an appropriately fancy name is the world's richest dog — and he's about to get a whole lot richer.
The affluent pooch is planning to sell his fabulous villa in Miami, Florida. And yes, it's his villa, he owns it.
Gunther's glorious mansion is up for grabs for $31.75 million. Even for a dog worth $500 million, that's a good bit of extra cash.
Gunther VI announced his plans to sell the house during an early November meeting with his real estate agents. At the meeting, he was appropriately dressed in faux-diamond dog collar, reported Chron.com.
If he's got the money, he might as well flaunt it, we suppose.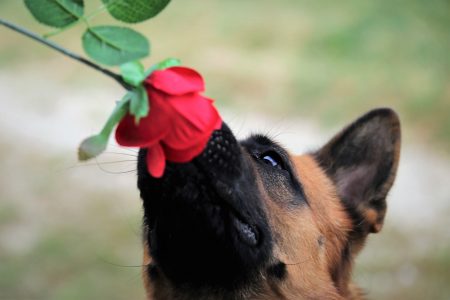 Madonna's Ex-Residence
The doggie villa isn't just any house, either. It's located on a 1.17-acre plot that has a lush, immaculately landscaped yard, 100 feet of water frontage, and amazing views over Biscayne Bay.
Things don't get any less luxurious once you enter the mansion. It has 8,400 square feet of space, divided between nine bedrooms, eight-and-a-half bathrooms, and (we assume) several living rooms.
And above the fireplace in one of the living rooms hangs a portrait of Gunther IV, the current owner's grandfather, in a gilded frame.
As if that wasn't enough, the villa is also significant in pop culture history. It used to belong to Madonna.
Gunther VI's grandfather purchased the home from the Material Girl some two decades for $7.5 million. That means the millionaire dog will be turning a good bit of profit on the villa once he finds a buyer.
Ruthie Assouline, the real estate agent managing the villa's listing, says Gunther VI has made the house his own, though.
"He lives in Madonna's former master bedroom. He literally sleeps overlooking the most magnificent view in an Italian custom bed in the former bedroom of the greatest pop star in the world," Assouline said.
Living the High Life
Luxurious as it is, Gunther VI doesn't really need the Miami villa. After all, it's not like he gets to spend that much time in it.
To begin with, this isn't even his actual home. Gunther VI's primary residence is in Tuscany in Italy, where he also houses his actual solid gold collar.
Not that he's all that often staying there, either. Like a true jet-setter, Gunther VI spends much of his time traveling around the world in his private jet.
He makes frequent visits to the hippest and most fashionable destinations on the planet. Florence, Milan, and the Bahamas are just few of his favorite vacationing spots.
When he's out an about, Gunther VI always dines in style. You won't find any kibble within a five-mile radius of his bowl.
He has his own chef who cooks his meals using only the finest meats, vegetables, and rice. And like a true connoisseur of the finer things, Gunther VI occasionally partakes in some caviar — or the $1.1 million white truffle he bought at an auction.
An Inherited Fortune
Rich as he is, Gunther VI isn't exactly a self-made man. He inherited his entire fortune, including multiple yachts and collector cars, from his aforementioned grandfather.
And even he didn't work for the money. The dog family's riches originate from a multimillion-dollar inheritance Gunther III got from his late owner, the German countess Karlotta Liebenstein, in 1992.
Since then, the Gunther family estate has been managed by a whole team of financial advisers, handlers, maids, and butlers. One of them is 52-year-old Carla Riccitelli, one of Gunther VI's main caretakers.
What, you think a dog this rich would have just one servant?
Riccitelli met the Gunther family nearly 30 years old. She felt a connection with the dogs and joined their team of caretakers.
According to her, Gunther hasn't let his fortune spoil him.
"He's not aggressive at all. He's very good with other animals," she said of her boss.
Riccitelli also acts as Gunther VI's contact to the board managing his family fund. The group is active in the real estate market, and also own several sports teams.
However, Riccitelli has been able to ensure that Gunther uses his money for charitable purposes as well. A few years back, for example, she helped found Gunther Rescue.
The benefit society helps animals who aren't as well-off as Gunther VI and need help. Good on you Gunther, for giving something back to society.