Because did your class prank get kudos from the police department and the town? I didn't think so.
Remember when you were a senior in high school and you wanted your year to be known as the best prank ever? Or maybe your grade wasn't so into it, but you remember years ahead of you wanting to get that acclaimed title?
Well, this prank was so good, even the cops joined in on saluting the class for their victorious stunt. It looked like a car accident but it was so much more than that!
Last week, Cumberland police posted a picture on their Facebook page of this car which was supposedly involved in a car accident. The car appears to have crashed into the Cumberland High School.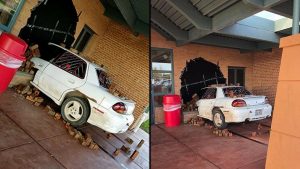 But the truth of the matter is, it was all the kids doing. "Students positioned an old junker strewn with loose bricks in front of what appeared to be a gaping black hole in the building's side, just outside the principal's office. It wasn't actually a hole, though. Using tape and a black tarp, the students created the illusion of damage, making it look like the car crashed into the side of the building."
How clever. Just a prank idea and a flawless follow through. Kudos, kids, kudos.
"Hats off to the Cumberland High School Class of 2018 on your senior prank," the police had said. "Congratulations Class of 2018 on one of best senior pranks that Cumberland High School has seen."
The photo was shared more than 1,700 times as of Tuesday night. And people praised the police for how they handled the situation.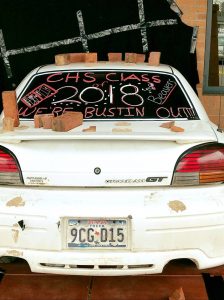 Commenters said things like:
"Hats off to Cumberland PD for having a sense of humor! People are too serious these days . Great prank! Sometimes things are just funny! Laugh people!"
"So creative! Great job at pulling off an artistic and safe senior prank! Way to go Cumberland P.D. for being supportive!!!"
All is well that ends well. And this is a strange story but it does have a happy ending.