The eyes and face are the two most important things a handyman needs to consider while working in a workshop. They need to put on a helmet, to protect their face and eyes while welding. Some more equipment that are a must for even the most professional handyman are goggles, safety glasses, filter lenses, and more. Helmets and shields help protect the eyes, neck and ears while one is working in the workshop. This is because the radiant heat from the arc could damage the eyes, skin, and face, if you do not wear a welding helmet and protect yourself.
Varied companies manufacture good-quality welding helmets for handymen that provide protection from arc rays generated from the weld sparks and spatters. The glasses used in the helmet are also auto-dark protection glasses. Some companies mandate the use of cover plates and filter lenses for their workers. The majority of the companies that provide safety glasses and 2 lenses are used for generic welding purposes, too.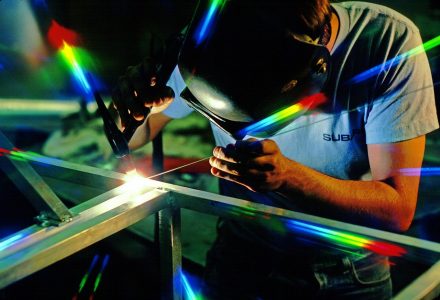 Welding Helmets are a Must for Handymen
Other than a welding helmet, the workers must also wear dark-colored clothes. It is necessary, as dark colors reduce the reflection from the face shield while welding. Aprons are another accessory that needs to be considered, even if you have well-protected welding helmets. Some protection aprons are flame-resistant and provide protection to the whole body from any accidental burns or injuries.  All of these are essential, as the rays released from the welding may sometimes cause serious burns to the eyes and skin.
Arc eye is one of the common causes that occur when the cornea is exposed to inflammation. Welding helmets prevent you from arc eye and other similar injuries, such as retina burns, and sunburn marks. To share a fact, the first welding helmet company was launched in 1973 by Wilson Products. A welding helmet is usually covered with a filter. Filters are also referred to as a lens shade by most people. The filter helps the handyman see through the glass while working. The window or glass is usually made of tinted glass, deep density filter, or tinted plastic.
In order to avoid any glass breakage, one must always choose a good company to buy a welding helmet from. Good welding helmets not only protect the eyes, face, and neck from arc rays, but they also prevent you from UV damage.
How to Buy Welding Helmets?
Always check the seller from where you are buying. Check the model and the company for credibility. Check your budget before you select the final product. Once you have all the details and mindset clear, you should be able to buy good welding helmets. After you have selected the best welding helmet for your protection from https://www.precioushandyman.com/best-welding-helmet/, you may take a look at other safety products such as a welding jacket, a square, safety glasses, metal file, a chipping hammer, welding magnets, metal brush, welding gloves, and welding apron. These tools will not only protect you from damage, but also ensure smooth work in your workshop.