Does your hair look like it hasn't been shampooed for 3-4 weeks, though it has been washed just before 4-5 hours? Well, we can understand your situation. An oily scalp can make you feel frustrated, especially during hot summer days!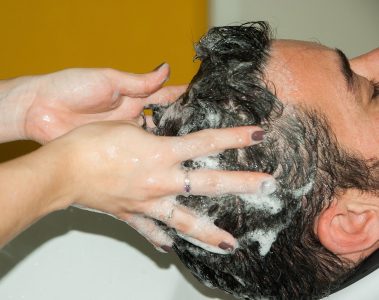 This persistently oily scalp condition results in hardly voluminous and fresh hair. The freshly washed hair is quickly weighed down by the quick production of sebum in your scalp, and it becomes a point of embarrassment for you especially, during a gathering or celebration.
The situation is more manageable for women by smartly tying the hair into a bow or a ponytail. But, what about men? How to manage oily hair when you have an essential office presentation, and you cannot look dapper due to the oily scalp?
The solution to this scalp challenge is trying out products that can help your scalp produce less sebum and stay hydrated as well as healthy. One of the most recommended products to achieve the same is Men's Purify Zinc Oily Scalp & Hair Shampoo Concentrate.
These amazing ingredients used in creating this shampoo concentrate helps you dealing with the oily scalp and say hello to healthy, nourished hair. The PCA and Zinc elements present in this shampoo concentrate support your glands in producing sebum and keeping your scalp hydrated.
The best part is the mix of herbs used in this shampoo. We all know the amazing qualities and nutritional value of Thyme, Sage, Ivy, etc. But have we ever wondered how they could transform your scalp?
The Men's Purify Zinc Oily Scalp & Hair Shampoo Concentrate recognizes the nutritional fact and hence, comprises all these herbs in it. These herbs effortlessly reduce the extra sebum contain on your scalp and promote healthy hair growth.
The main content of the shampoo- zinc, will help in fighting bacteria and fungus. Thus, helping you get rid of constant itching, flakes, as well as redness on the scalp.
In addition to that, they help you maintain the pH levels of your scalp. Most of the men shampoo for oily scalp do not offer this level of benefits and nourished hair.
Men can use this shampoo concentrate to deep cleanse the scalp, purify it thoroughly, and prevent the hair follicles from an overproduction of sebum that can act like plugs to clog the follicles.
Also, most of the men shampoo available in the market are harsh on the scalp and hair. In worst cases, they significantly dehydrate the hair. This shampoo does the opposite of it.
The blend of herbs present in it helps you experience a fresh, hydrated, and healthy scalp as well as hair post showers. It also leaves a pleasant smell that is entirely natural- right from the blend of the herbs. Sounds, interesting?
Order this herbal and zinc-rich shampoo concentrate for men today from here and enrich your scalp with the vitamins, herbs, and other exceptional properties of the shampoo.