Two acrobats set the Guinness World Record for most backflips on a teeter-totter
Hundreds of onlookers in Quebec were on hand to watch the feat
The pair perform together in a not-for-profit circus group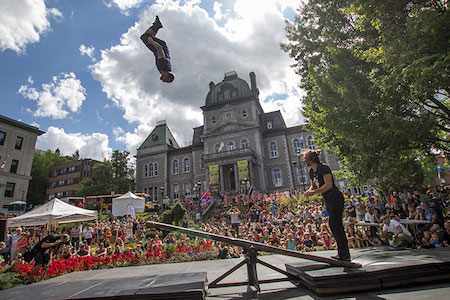 Last week, acrobatic experts Maxim Laurin of Canada and Ugo Dario of France broke the world record for the most consecutive backflips on a teeter-totter.
In front of hundreds of awestruck spectators in at the Bouffe ton Centro festival in Sherbrooke, Quebec, the aerial experts completed a mind-numbing 101 backflips to set the new Guinness mark. The only rules involved with setting the new record were that one foot was on the board at all times and the performers were allowed no more than a five-second pause between each flip.
The duo began working together over nine years ago. Both men are members of Machine de Cirque, a not-for-profit organization of various of artists and tech savvy creatives that produce circus shows around the world.
They join an impressive, but short, list of individuals who also used a teeter-totter (also known as a see-saw or Korean plank) to have their names etched in the record books. In 1989, Russian performance artist Mikhail Kouzimin landed a triple back somersault on a teeter-totter while on one stilt. The Jaguar and Land Rover Automotive Trading company set another world record for the longest vehicle teeter-totter ever, back in 2016.
While the index of teeter-totter records is brief, the number of world record winners doing back flips is extensive and impressive. Among the record holders is Lukas Steiner of Austria, owner of the best mark for longest back flip and Walter Liesner, who was 94 years young at the time he set the record for the oldest living person to perform a back flip.
It's safe to assume that somewhere in the world, at this very moment, a person is training in hopes of setting a new Guinness World Record. If you believe you've got what it takes, the Guinness folks want to hear from you. Attempting and breaking a record is as simple as filling out an online form—oh right, and years and years of practice.
"We are always looking for new challenges. We thought breaking a world record was a good one," Laurin said after the successful attempt. Perhaps the men can take a shot at setting the record of most backflips on the world's largest teeter-totter. They'd just have to build it first.