If you love your house, take it with you when you move.
There's nothing weird about moving houses – all of us have to go through it at least a few times in our lives. But literally moving houses is a whole other thing altogether.
It's a massive undertaking to rip up a house and take it somewhere else, but apparently it can be done. Case in point, workers in San Francisco just relocated a two-story Victorian house in San Francisco.
The Italianate-home, built in 1880, used to sit at 807 Franklin Street, reported SFGate. But the building, known as the Englander House, was about to be trampled by progress.
There are plans to build a new 47-unit apartment complex on the 75-foot wide lot where the Englander House stood. Those plans didn't include preserving the historic home.
That didn't sit right with the Englander House's owner, San Francisco broker Tim Brown. So, he decided to do most reasonable thing – move his entire house.
The process didn't come cheap, though. Brown reportedly spent roughly $400,000 of his own money to get the building shipped to its now home to 635 Fulton Street.
Not only that, Phil Joy – the engineer who oversaw the house-moving project – had to secure permits and licenses from 15 different San Francisco city agencies. But hey, if you love your house, you have to be ready to make some sacrifices.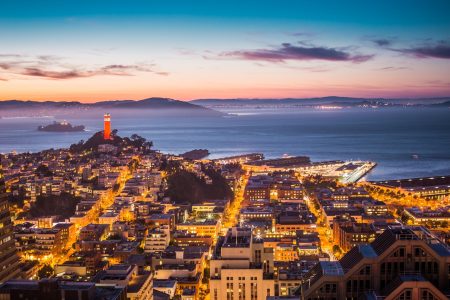 Eight Years in the Planning
After Brown and Joy had all the proper permits, there still was some preparations to make. First of all, the house-moving had to be carried out early in the morning before San Franciscans heading to work clog the streets.
Additionally, moving a whole house through narrow city streets is far from easy. City agencies removed droves of parking meters, street lights, and power lines to keep the house from wrecking them as it passed by.
Some of the city's trees also had to have their branches trimmed back. Suppose it's better to have a professional do that instead of getting them ripped off by a traveling house.
Finally, after eight years of planning, work could begin. Joy's team started lifting the house up onto a gigantic mechanical dolly sometime around 6 a.m. on February 21.
At 7:20, the house was up and ready to start moving. Slowly, at around one mile per hours, the dolly started crawling through San Francisco.
'A Few Glitches'
The Englander House proceeded down Franklin Street before turning left onto Golden Gate Avenue. According to Joy, this first part of the trip was the most difficult since the house had to move downhill.
"That's always difficult for a house," he told KTVU in what we're naming the understatement of the month.
Some onlookers also thought that the journey looked precarious.
"I was scared when they were trying to turn on Golden Gate. I was surprised, I was like there's no way but they got it through," Saron Eyob, who lives nearby, told ABC News.
Despite all the work to prepare the route, not everything went according to plan. As the house trudged on, it inevitably hit a few things that the city agencies hadn't taken into account.
"There's been a few glitches on the way. Trees that were in the way, stops signs, lights, and signs and what not," Lana Costantini from the San Francisco Historical Society, said.
But the house moved on through Golden Gate Avenue and Laguna Street, before finally reaching its destination on Fulton Street. There, it was placed down next to an old mortuary.
Oh yeah, the mortuary. Before the Englander House could be moved, the mortuary was also nudged by about 12 feet to make room for the new building.
But in the end, the Englander House reached its new home. Now, the 139-year-old house is ready to be converted into seven apartment units.
A Blast from the Past
Although the whole house-moving operation is definitely rare, it's not unique. It has been nearly half a century since the last previous house transportation project in San Francisco, but it used to happen pretty regularly.
In fact, transporting houses was so popular that SFGate says it was one of the bigger industries in the city in the late 1800s and early 1900s. There were at least 19 companies at the time offering house-moving services.
In those days, though, they didn't have giant machines to do the move. Instead, the houses were pulled down the streets with good old-fashioned horse power.
House movers would lift the house up with huge jacks and lower them onto greased beams. As the house moved along, they would pick up the beams left behind and hurry them back in front of the building.
To pull the house, the workers constructed a capstan, a rotating mechanism in the middle of the street. It was connected to the house with a pulley, and then two horses would circle the capstan, rotating it and pulling the house forward.
However, technology progressed and things such as telephone and electricity lines started popping up in the streets. Transporting became increasingly difficult and eventually the industry died off.
Well, more or less. Clearly, there are still some left ready to undertake such a massive operation.