A furry hero is gone but not forgotten.
Dogs have amazing noses. For example, did you know they can even smell out ones and zeros?
We're not making that up. That was the job of URL — a Utah police dog specifically trained to detect people carrying electronic devices housing child sexual abuse materials (CSAM).
In other words, URL was at the front lines catching people dealing in child porn.
The only thing more incredible than the Labrador retriever's job description is how good he was at it. Over his years-long career, he provided the basis for more than 200 search warrants, most of which resulted in obtaining digital evidence for a CSAM case.
Unfortunately, every great career eventually comes to an end. URL, who retired in January 2022, trotted off to doggy heaven on December 30.
As is appropriate for such an illustrious civil servant, URL's passing drew words of respect from the agencies he served.
"It is with heavy hearts that we say goodbye to our beloved URL," the Utah Office of the Attorney General said in a statement.
But no one is more heartbroken than Cameron Hartman, a Weber Country Sheriff's Office (WCSO) detective and URL's handler.
"What a privilege it was to serve alongside you. … It's been an unbelievable honor to have been the largest part of your unstable life. I will miss you terribly until I get to see you again," Hartmann wrote in a letter to URL.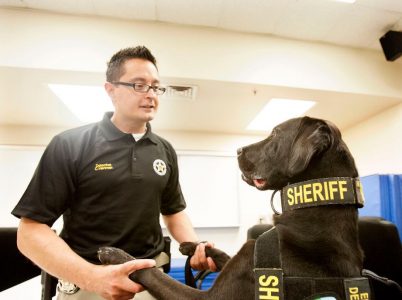 A Difficult Life for a Puppy
Great as he was at his job, URL wasn't born a K9. In fact, his story is a true rags-to-riches tale.
URL, a black Labrador retriever, was born on February 14, 2015. In his youth, nobody expected the puppy to ever amount to much.
URL's early life was very hard and he kept bouncing back and forth between shelters and foster homes. No one seemed to want to deal with the rambunctious puppy.
After several failed adoption attempts, URL was returned to a shelter in September 2015. The adopter who brought him back described him as "untrainable, loud, not good on a leash, and a biter."
But fate was about to smile on URL. At the same time, Utah was kicking off its Electronic Storage Detection Canine (ESDC) program, and they needed dogs with plenty of drive.
And if URL had anything, it was drive.
The Central Indiana Labrador Rescue & Adoption (CILRA) recognized URL's latent talents and connected him with Hartman, who was seeking dogs to become ESDK9 agents.
CILRA connected Hartman with URL and, in May 2016, he moved to Utah. Hartman and URL embarked on a rigorous training program.
Luckily for him, the food-motivated Labrador was a quick learner. He got to eat whenever he performed well in training searches and boy, did the dog want to eat.
Soon enough, he was fully-fledged ESDK9 and he took to the field.
Incredible Discoveries
Now in service, URL excelled. As we mentioned, he completed more than 200 search warrants and had a success rate of 22%.
As a result, he recovered dozens of pieces of electronic evidence that human officers investigating CSAM cases would've missed. Over his career, URL made some incredible discoveries.
For example, he correctly identified a USB drive that had been disguised to look like a regular keychain filled with keys. Another remarkable discovery was a micro-SD card in a closed baby jar within a full pencil box, which sat in a wooden chest filled with random items.
In addition, he found an SD card placed high on a shelf, a cell phone hidden in a hollowed-out book, and phone parts placed behind a toilet wall in a Weber County Jail.
URL's success quickly earned him the nickname "the Porn-Sniffing Dog." With the nickname, URL's fame grew and he was featured on several national news outlets.
But he did much more than bust child porn purveyors. He also provided emotional support to officers and children who were stressed or upset by the disturbing nature of CSAM investigations.
Finally, a year ago, URL retired and went to live in Hartman's home. He enjoyed his retirement days until the day before New Year's.
We at Oddee thank you for your service, URL. May you rest in peace.