We've really become so desperate for joy that we'll get attached to a roadside corn plant
2020 has been such a wild year that a lot of us are in need of some mental support. Many people are turning whatever little kernels of hope they can find to help them pull through.
The city of Sioux Falls, South Dakota, found that kernel in a stalk of corn. Any port in a storm, right?
South Dakota is among top ten corn producing states in the US, so you wouldn't expect them to get excited over a single stalk. The stalk in question, though, is a real trooper and embodies the kind of perseverance needed to get through this year.
Namely, the plant decided to sprout not in a field, but through a crack in the pavement of a busy street. Pushing up from the ground between the road and the sidewalk, the corn defied all odds and survived.
It even managed to produce a little ear of corn. The hardy stalk impressed the people of Sioux Falls, and it became something of a local celebrity.
People all around to city came to see the stalk, reported Keloland News. The 57th Street Corn even spawned a couple of Twitter accounts in its name.
People on social media have encouraged locals to bring the corn some water to help it thrive.
"The corn on 57th is historic," Sioux Falls resident Joshua Novak tweeted. "Go visit. Respect its space."
Even Mayor Paul TenHaken expressed his support for the city's photosynthesizing hero.
"We find joy in the smallest things during this challenging time in our country. Corn growing out of a curb is one such thing," he tweeted.
TenHaken also issued a warning to anyone who would think to harm the corn.
"Touch this corn and there will be trouble," he said in a separate tweet.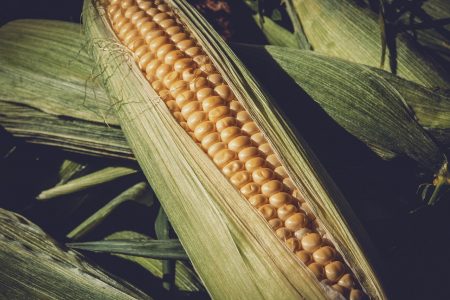 Plucked Before Her Time
But clearly, some didn't heed the Mayor's warning. On the morning of August 19, the 57th Street Corn was found torn up and thrown to the side of the road.
Why is it always the good that have to go so young? The corn didn't even have time to make it to its first harvest.
The Mayor didn't make good on his promise of swift retribution for the corn murderers. He did, however, issue a statement where he repeated that in these trying times even "seemingly insignificant" things, like a misplaced stalk of corn, could bring us joy.
"It was 'amaizing' to see the community rally around the 57th Street Corn as a sign of hope over the past few days," he said according to Argus Leader.
According to locals, a "well-meaning lawn care specialist" was behind the plucking of the corn. No one has officially been identified as the culprit.
Other residents took to social media to express their sorrow over the fallen corn. Novak, who had encouraged people to visit the stalk, posted a memorial photo on his Twitter.
"End of an era. But the 57th Street Corn will never be forgotten," he said.
John Nguyen, journalist with SDPB News, tweeted that the corn "proved that one single stalk can change hearts and minds".
"May you grow again among those plucked before their time," Nguyen wrote.
"That corn was the very best of us," lamented writer Alison Raaen.
A New Beginning
But, in a happy twist, it turned out that the rumors about the death of the 57th Street Corn were highly exaggerated. And it's all thanks to one man.
When Chad Theisen, who lives in Sioux Falls, read about the supposed demise of the corn, he reacted with "horror and disappointment". But when the local hero needed help, Theisen chose not to simple sit idly by.
Instead, he says on his Facebook that he dispatched a "corn-loving crew" consisting of himself and his children to help "Cornelia", as he had titled the plant.
"Premium soil from a local garden was mixed with MiracleGro and a long drink of water. A temporary container was procured and decorated with the flag of this great city," Theisen detailed the rescue operation.
He then moved Cornelia to a safe location on Connie Avenue. Now, he is looking for a permanent new home for her.
"The only two requirements for our new home are that it be a public location where were can receive any and all visitors and that it has a lower risk of us being abducted or torn out like our previous residence," Theisen wrote.
On August 21, Cornelia went on a spa trip with The 'Hillbilly's' Repurpose Project. Theisen said she could expect to be spoiled with air temperature rain water and a good dose of South Dakota sunshine.
While Cornelia hasn't yet found her final home, she seems to be in good hands. Let's hope that her story ultimately has a happy ending.
We sure could all use some good news, that's for sure.
Want to tell your strange story?
Tell us about it
and it could be featured on Oddee. You can remain fully anonymous.