When you love to read, you love to read all things. But it's especially fun to read weird and unusual things, especially when they are great reads! Here are 15 unusual reads and what makes them so great.
1. The Resurrectionist: The Lost Work of Dr. Spencer Black
This one is actually two books in one. The first is a fabricated biography about his childhood of exhuming corpses, carnival travel, and his disappearance. The second book is his most important work regarding his theories on dragons, centaurs, Pegasus, and Cerberus. This book is full of comprehensive anatomical illustrations, undoubtedly the creation of a madman.
2. Extraordinary Pop-Up Contraptions
Remember those super fun pop-up books from childhood? You know, you would turn the page and an object would literally pop off the pages into a 2D, sometimes even 3D, work of art? Well, this is a pop-up book, for grownups, and you're gonna love it. This book transforms into 6 working tools, including a working planetarium projecting the constellations, a musical instrument with strings for strumming, a geometric drawing generator, an infinite calendar, a message decoder, and even a sound-amplifying speaker. Each pop-up has text explaining the science behind them and making these extraordinary experiences that are educational, too.
3. Flip Book Fan: A Breezy Little Book
Again with the favorites from childhood. Flip books are constructed so that you can quickly flip through the pages and see images move. This flip book is of a revolving fan. The hues of the book suggest it is a warm summer day, but the illustrative effect of the fan and the actual "wind" produced by the flipping pages will literally cool you off.
4. The Miniature Book of Miniature Golf
This book is perfect for any golf lover. It includes a working 9-hole mini-golf course with balls and a putter included. You can literally play through this book, making it truly original. And each course is themed, of course, and ends with the clown's mouth as the last hole. Good luck!
5. Atlas of Cursed Places: A Travel Guide to Dangerous and Frightful Destinations
If you are into dangerous, scary, and frightful places, then this book, including vintage maps and period illustrations, will be your new favorite. Included in this book are 40 locations, complete with some type of disaster, chaos, paranormal activity, and death. The locations featured are worldwide from Charybdis, a small town in Jharia, where the ground burns constantly from fire, to the Golden Gate Bridge, the world's second highest suicide location.
6. The Encyclopedia of Superstitions
Trivia and fun fact-filled, "The Encyclopedia of Superstitions," has over 500 of the best, and most unusual, superstitions of the Western World. Beliefs about the Bermuda Triangle, hiccups, and hunchbacks are all a part of this book. Other topics include weddings, colors, fairies, weather, birds, insects, zodiac signs, food, and the human body.
7. People of Walmart Adult Coloring Book
So unless you've been living under a rock, we have all seen the memes or videos called, "People of Walmart." In case you haven't seen them, they are full of people with lots of skin hanging out, very bad teeth, and women drinking wine out of Pringles cans. (Yes, these things really happen.) And so here you have it, colorable illustrations of the people that frequent Walmart. Enjoy.
8. Porn For Women
No, this is not what you think. Or maybe it is. These images are meme friendly, too, and things you will see on Facebook and beyond. In, "Porn for Women," you will see pages upon pages of men folding clothes and doing laundry, vacuuming,  listening, asking for directions, taking out the trash, and cooking dinner. Some women like porn with people in it, and these women like porn with men doing 'women's' duties around the house.
9. Illumanatomy: See Inside the Human Body with Your Magic Viewing Lens
And no, we aren't talking about Superman, superhuman eyesight, but more of an anatomy lesson like you've never seen it before. This book allows you to look inside the human body like you haven't before. Use the red lens to reveal a skeleton, the green lens to see working muscles, and the blue lens to see what your organs do, day and night, to keep you alive. You will uncover secrets to the human body, and see how different systems work through illustrations, facts and detailed information.
10. Flipbook Fruit Samurai – Duel of Samurai Apples (Japanese Edition)
Yup, another great flipbook. This flipbook has two samurais from rival apple clans that meet each other at a sequestered shrine in a tall bamboo grove. There is a long-standing blood debt to settle, and they face each other in this flipbook in a battle to the death. Sparks fly as the red and green fighter face off. To see what happens, get yourself a copy of this fun-filled, death book!
11. P Is for Pterodactyl – Features the Most Bizarre words in English
This book is hard to read, even if you love English. It includes so many of the hardest words in English that there are to pronounce, because they are not phonetic.
12. Earth and the Moon 360 Book (Japanese Edition)
Another Japanese edition book, but this one is almost like a flip book and pop-up, in one. This book can be used for decoration or reading. This 360° book gives views of planet Earth surrounded by clouds, and of course, the moon.
13. The Pop-up Book of Phobias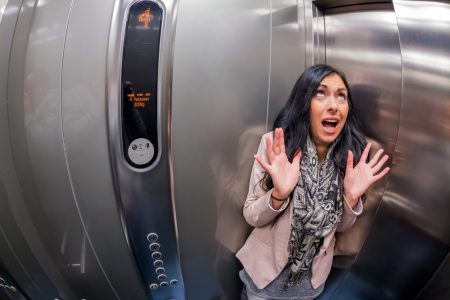 Because when you are afraid of something, you, of course, want it to jump off the page at you! Get ready for a book with spinning dentist drills, plummeting towards sidewalks from skyscrapers, and the window seat of a plane as an oxygen-mask deploys. Yikes.
14. Raising Unicorns
Yes, this book is all about unicorns, well, farming them. This imaginative industry lacks nothing as it's as unique as it gets.
15. The Zombie Guide: Complete Protection from the Living Dead
You know, just in case it happens. This fully illustrated book tells you everything you need to know. From the physiology and behavior of zombies to defending yourself and your house, and even how to adapt and survive in the wild. This is a must-read.
These books are unusual and weird, but so, so good.
Note: This post is a sponsored story by Gifteee.com.  Oddee was compensated to write and share this article.