Online gaming can be fun, as you long as you do so legally and responsibly...
Whilst we may not have the bright lights of Vegas, the UK is home to around 150 casinos, and players are recorded to spend around £5.6 billion per year at online gambling sites. But which of the casino classics are the most popular amongst British players?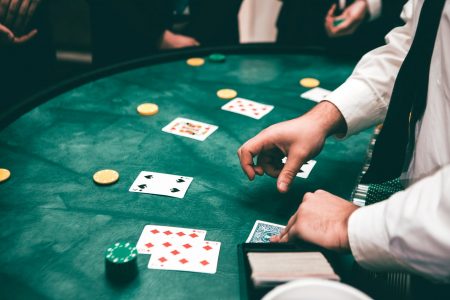 Taking into account other brick-and-mortar casinos, and the online gaming offerings coming from sites like Griffon Casino – there's never been more ways to enjoy casino gameplay. Read on as we explore the top three most popular games in the UK, as well as why they are enjoyed by so many.
Roulette
A game that is popular almost everywhere in the world, you'll find a whopping 846 Roulette tables across the country. Ranking as the second most popular game at UK casinos, it seems as if British players prefer games that are simple to play, with immediate outcomes. Roulette consists of placing a bet on where you think the little white ball will stop, before the dealer spins the wheel and all is revealed.
There are a range of different bets that you can place regarding the outcome of the Roulette wheel, including odd/even, red/black and even groups of numbers. Because of this range of betting decisions, players can really play however they want. It's just worth noting that the broader your bet type – such as groups of numbers – then your Return to Player (RTP) percentage will be slightly lower.
However, the European Roulette wheel is the most common in England, and is actually the version of the game that falls more in the favor of the player. To put this into perspective, when you play American Roulette, there's a higher house edge, therefore allowing the game to unfold in favor of the casino.
Slot machines
Slots, joined by video Poker and Roulette machines, make up the almost 4,000 electronic gaming terminals that fill casinos in the UK. You can find slot machines at almost every casino, as well as online. Slots are another game that's easy to play and can be enjoyed by just about anyone, regardless of their gaming experience.
Another great thing about Slots that keeps Britons coming back for more, is that the premise of the game is the same no matter where or how you play. So, whether you like to get your gaming fix online or at your local brick-and-mortar casino, all the rules will be exactly the same, making it easy to learn and enjoy.
Poker
Whilst Poker isn't the oldest game at the casino, it does still have a rich history, as well as moments of reinvention. Between 2003 and 2006 there was a Poker Boom, as online gaming continued to rise in popularity and the World Series of Poker (WSOP) was televised. What's more, the suave fictional British gentleman James Bond was also seen dabbling in a high-stake game of Texas Hold'em in the iconic film Casino Royale, inspiring players to get a taste of the super-spy lifestyle and try the game for themselves.
—
Gambling can be addictive, please play responsibly.
Click HERE for more info.