Did you know that October is national dessert month? These are the most delicious desserts that you have to try, and this is the month to try them!
Cheesecake
If you haven't already had cheesecake, then you must try it. A traditional cheesecake has a base of cream cheese with eggs, vanilla extract, salt, sugar, a graham cracker crust and it's baked. "American" versions of cheesecake have come out with recipes that are no-bake. You can also add almost anything to cheesecake, too. If the cheesecake is good enough, read: my parents cheesecake, it's delicious all by itself. But there are swirled cheesecakes too, with fruit, caramel, and fudge. You could even throw in chocolate chips. 
Fruit Crisp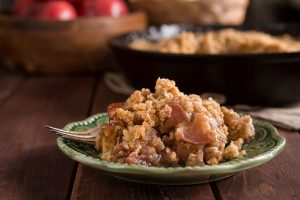 Fruit crisp is delicious and perfect for this time of year, almost like a lighter version of a cobbler. Fruit crisps are full of apples, peaches, pears, or even combinations like berries, topped with a crust of oatmeal, butter, brown sugar, and a sprinkle of salt. The best way to enjoy these delicious desserts are to make them homemade, and enjoy them warm and right out of the oven. Pair it with a side of vanilla bean ice cream if you want something sweet and cold to finish it off. 
Pecan Pie
Everyone likes at least some type of pie, and pecan is as sweet, and perfect for the Fall as they come. But there are plenty more of these delicious desserts so that everyone can have one that they love. Chocolate Mousse Pie, Peach Pie, Apple Pie, Lemon Meringue Pie, Peanut Butter Pie, Banana Cream Pie… what more could you want?
Carrot Cake
Carrot Cake is a spicy and light, and typically topped with a sweet cream cheese frosting. This is one of the most delicious desserts, especially when it's filled with little pieces of carrot, seeds or even nuts. Carrot Cake is most often eaten in the Springtime but great during the Fall as well.
Tiramisu
This coffee-flavored dessert is one of the most delicious desserts to so many people who love it. This classic Italian dessert is made with ladyfingers soaked in coffee and laid between coffee-flavored mascarpone cheese whipped with eggs and sugar, and then topped with cocoa. Tiramisu literally means "pick-me-up" and with that touch of coffee, it's the perfect dessert to put a little pep into your step.
S'mores
Across the world- this is known as a campfire treat that started right here in the United States. Crazy enough, s'mores were first eaten as far back as Scout camps in the 1920s. S'mores are two graham crackers, with melted chocolate and fire-roasted marshmallows, toasted over the campfire itself.
Chocolate Pecan Fondue
Fondue is fun, whether it's dinner or dessert. This chocolate pecan fondue is the perfect "dip" for fruit, cookies, rice krispie treats, pound cake or even pretzels. This fondue is simply made with semi-sweet chocolate, honey, cream, pecans and vanilla extract. Who doesn't like dip, and even better, chocolate dip for dessert? Yum.
These are easily some of the most delicious desserts. Is your favorite dessert on this list?