The temperature's getting cooler and it's the perfect time to enjoy warm sweets for Fall.
What are the best sweets for Fall? With pumpkin spice everything, you'd think it was the only yummy taste of Fall, but here are a lot more.
Pear Sauce
If you love pears, then you have to try pear sauce. It couldn't be easier to make and it takes this fruit to another level. Take ripe pears and cut out the core and stem. Add your cut pears to a pan on low/medium heat. Add a little lemon juice, a pinch of salt and cinnamon. Let your pears cook down and add honey or sugar to taste. You can enjoy this dish warm off the stove or cool it down for chilled pear sauce as well.
Apple Cherry Crisp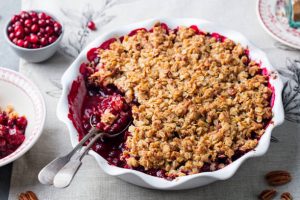 Apples are delicious in the Fall and cherries add a little something to everything. Using frozen cherries, let a cup of them thaw. Use two or three apples and chop them. Add both to a buttered dish and drizzle lemon juice over the top. Use the same oatmeal mixture as pear crisp above and bake until you can pierce the apples with a fork. 
Pear Crisp
Pear crisp is such a delicious staple for Fall desserts and if you haven't tried it before, you should. For pear crisp, slice your pears and add them to a buttered dish. Use five or six pears, and drizzle lemon over the top. To a little bowl, add three tablespoons of butter, a pinch of salt, a couple tablespoons of brown sugar, one of white sugar and cinnamon to taste. Add ¾ cups of oatmeal and mix together. Pour this mixture over the top and bake at about 350 degrees for 20 minutes or until the pears are soft and warm. This is one of the most warm and delicious sweets for Fall.
Baked Pears
For baked pears, it's just pears, cinnamon and a sprinkle of brown sugar. Place them in the oven until soft and fragrant. You could eat these with a topping of whipped cream, a vanilla sugared cream cheese drizzle or even over ice cream. 
Apple Coffee Cake
Adding diced apples to coffee cake is similar to an apple muffin or apple donut and so good. Use your favorite coffee cake recipe and replace some of the liquid in the dish with apple cider. These changes will elevate your coffee cake and entice your taste buds. 
Caramel Apple Bowls 
So not a warm dessert but if there's anything more Summer and into Fall than a caramel apple bowl, tell me what is. Chunks of apple with warm caramel drizzled over the top and salty peanuts is such an amazing treat. You can also add chocolate, sprinkles, different nuts or even other candies.  Tell me you love these sweets for Fall?
Pumpkin Cheesecake Cookies
If you're into pumpkin spiced everything, then these cookies are for you. Take a sugar cookie base and add pumpkin puree. From there, stuff a square of cream cheese in the middle of a cookie ball and surround the cream cheese with the pumpkin sugar cookie base. Bake your cookies and enjoy them warm. 
Pumpkin Chocolate Chip Cookies
For these pumpkin chocolate chip cookies, all you need to do is add some pumpkin and some pumpkin pie spice to your go to chocolate chip cookie recipe. These cookies are the classic chocolate chip, add pumpkin. Which most of us just love this time of year.
Pumpkin Blondies
Blondies are like brownies and these blondies are filled with pumpkin. Add pumpkin to your blondie recipe and pumpkin pie spice. For the top, additions like white chocolate chips, a vanilla cream cheese drizzle or even your favorite frosting would be so good.
What do you think of these delicious sweets for Fall? Do you want to see more articles like this?
For more about sweets, follow the link to read Bear Breaks into Cabin for Chips, Sweets, and Beer.