Considering the description of the yoga class, you can't really blame the callers.
Picture yourself walking into a dark room and turning on the lights — only to see corpses strewn all over the floor. What would you do?
Well, upon spotting multiple unmoving bodies in a candle-lit cafe, with an eerie character sitting in the middle of them, a British couple called the police. Which is probably the reasonable thing to do.
Officers quickly arrived at the scene to inspect the reported "ritual mass murder." But when the cops burst into the building, they didn't get to stop a deranged cultist from summoning something unspeakable into our reality.
Instead, they rudely interrupted a yoga class.
The cops walked in during the relaxation phase of yoga teacher Millie Laws' class. Her seven students were indeed lying about motionless, but they weren't dead — they were simply embracing the good vibes, man.
Yet, Laws doesn't exactly blame the couple who made the emergency call. She realized that her class might look a bit bizarre to an outsider.
"I guess from the outside view it could look like [a murder scene], because they're all really still, very nice and relaxed," Laws told the BBC.
"I'm sure their imagination was running wild with what was going on."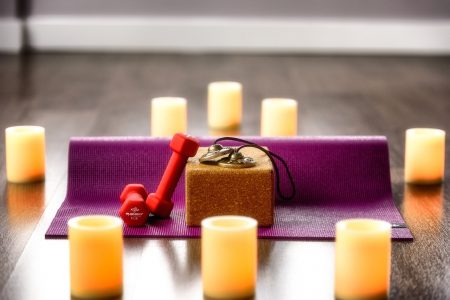 A Strange Ritual?
The strange incident happened on the night of September 6 in Chapel St. Leonard's on England's eastern coast. Laws was holding a yoga class at the beachfront Seascape Cafe, which has allowed her to use their premises after hours.
It's quite a pretty building, with big windows for the seascape view. Remember them, because they'll be important soon.
The class had gone well and had proceeded to the Shavasana stage. In this phase, Laws had instructed her seven students to lie down and relax as she turned off the lights.
"They're laying down with blankets over them, their eyes are closed. It's very dark in there," explained Laws.
"I just had candles and little tea lights lit the whole room, and I was just walking around playing my drum. I had a nice floaty top on with large bell sleeves."
In all honesty, that's a bit of an unusual situation, but hey — yoga.
However, Laws suddenly noticed something. A dog-walking couple was peering in through the cafe's large windows.
"A couple with some dogs just came up to the window and were having a look in, but they walked off really quickly and I didn't think anything of it," Laws said.
The couple left. But other guests soon arrived.
Not a Joke
Five police soon screeched to a halt in front of Seascape Cafe, with their sirens blaring. They entered the building, explaining that someone had reported there was a "ritual mass murder" going on.
The cops must've been as flabbergasted as Flaws was when the supposed dead victims got up from the floor.
Laws said she initially thought the whole thing was a joke. But nope, they were serious.
"These people phoned in saying that there was a mass murderer. [The murderer was] wearing a robe and … walking over all of the people, and it looked like some kind of ritual, and that the people on the floor were actually dead," Laws described the emergency call.
In reality, however, there obviously wasn't anything of the sort going on. We can't help but wonder if the cops were relieved or a little bit disappointed when they got to leave in peace.
I mean, how often do you get to stop an occult ritual murder?
On Top of Their Duties
Despite the unfounded claims made about them, both Laws and Seascape Cafe see the humor in the incident.
"If anyone heard the mass of police sirens in Chapel St. Leonard's at 9:30 p.m. last night then please be reassured," the restaurant wrote on its Facebook page.
"They were on their way to the Observatory after someone had reported a mass killing in our building … Which actually turned out to be the yoga class in meditation."
The cafe did thank the police for their quick response. They also went on the record saying that they're definitely not part of any "mad cult or crazy clubs."
Laws said she does feel kind of bad for the couple who made the call. In hindsight, she realizes that her class must've looked "terrifying" to them.
"But at the same time, you've got to see the lighter side of it. It's a bit surreal and funny," she said.
Indeed, you have to look at the silver linings. At least we now know that if someone reports an actual cult murder in Chapel St. Leonard's, the local police force will be there to put a stop to it.