Yup, you read that right, stripper pole, party bus, and field trip, all related.
We all know that workers are at a shortage right now, and that's extending to products, services, and even buses. That's why this field trip took students on a stripper pole party bus. 
An 11th-grade Advanced Placement language and composition teacher, Jim Mayers, of the Brooke Charter School in Boston posted a picture of the stripper pole party bus full of students and captioned it with, "when you promise hundreds of kids a fun day with their advisories, you make it happen."
The post has since been deleted. 
Mayers tweeted that the students "didn't really care about the bus, and a lot of great planning by a lot of great people made for a fantastic day."
The photo was funny, but it speaks to the current bus shortage in Massachusetts.  "It is a funny story, but there actually is a real bus shortage and it speaks to major flaws in our education system," he said.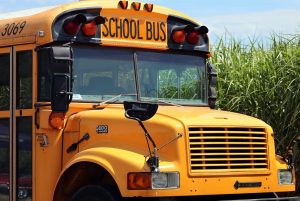 Mayers is using the attention he's getting from his original tweet to urge people to better understand educational inequities and other problems facing American schools.
"I'm worried that there is too much attention being paid to the tweet itself, or simply the fact that it went viral, instead of attending to the many systemic issues that are facing not just my students, but students all across the country," he wrote in a followup tweet.
In example, school districts throughout the United States are struggling to hire enough drivers to get kids to school, and some states have been creative, including Massachusetts, enlisting National Guard members to drive transport vans. 
Originally, he wrote the tweet as a funny tweet to other teachers. 
"If it's gotten people to talk about the overall infrastructure of our education system, and the different ways schools are prioritized, then that's good too," he commented.
As other districts fail to find the necessary number of drivers, students are still returning to school. 
"It is one of our serious situations we're facing right now — right behind COVID," Skye Duckett with Atlanta Public Schools, down about 30 drivers at the time. 
Thousands of students will be out a ride in Montgomery County Public Schools if the district cannot fill more than 100 vacancies in Maryland. At the same time, in Delaware, a charter school is wanting to pay parents to pick up and drop off their kids to reduce the need for buses. The going rate is $700 per child. 
Maybe it would work to get a stripper pole party bus to take kids to school. No? Probably not the best idea.