People thought he was lost but he was just busy walking home.
It had been four days, but the trucker everyone thought went missing was fine. He was just walking through the wilderness, to get back home.
Jacob Cartwright, 22, got lost, then stuck, and he couldn't fix it. Cartwright was hauling potato chips when he got stuck. Because he was in an area with limited cell phone reception, he decided to get out and walk, from the direction that he came from. He didn't take any food or any water with him and started his trek at about midnight on Wednesday of last week.
A search involving aircraft was out looking for him since he went missing. Cartwright walked, and didn't stop, until last Saturday morning when he neared La Grande, where he lived. The town was 36 miles away. He flagged down a passing motorist and hitched a ride home.
Cartwright's wife got quite the surprise when she walked into her home after a meeting with officials about her husband, just to find her husband there, in their home.  
Cartwright told his wife "he was hurting real bad and was real cold. So she packed him up and took him to the hospital."
When asked why he didn't take any chips for his journey and to feed himself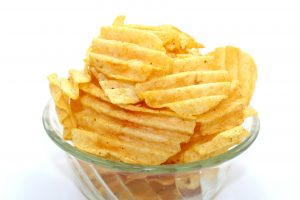 he replied, "That's worth money. That's the load I was hauling and I didn't want to damage the property."
Cartwright was driving the chips from Portland Oregon to Nyssa, near the Idaho border. It all went wrong when he input an incorrect address into the GPS. He turned off of Interstate 84 near Pendleton and when he realized it was wrong way, he attempted to correct it with the right address. The GPS then took him down a U.S. Forest Service road that started out paved but soon became impassable.
Police found his truck, sitting on the edge of a dangerous embankment, about 21 miles from the last known GPS location. Because there was limited cell phone access, Cartwright's phone went dead. The story ends well for Cartwright, the chips and the truck, all which were fully intact by the end of the incident.